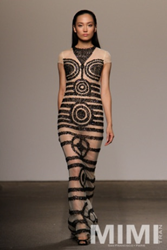 New York, NY (PRWEB) February 08, 2017
MIMI TRAN unveils an exclusive Invitation Only preview of her Fluorescence Fall-Winter 2017 Collection on February 15, 2017 during New York Fashion Week. A much-anticipated part of the event is the debut of the brand's breathtaking capsule bridal dresses. Renowned for her ravishing evening dresses, Mimi rolls out an array of glamorous pieces with ultra feminine silhouettes cut close to the body but draped for graceful movement from the finest silk blends, all awash in scintillating colors.
The collection features distinct design elements from the 1920s and effervescent 1970s hues within Mimi's signature aesthetic of using classical design foundation to create exceptionally modern looks. The entire collection highlights the visionary designer's innovative juxtapositions of the past and the future in artisanal hand beaded floral patterns and digitally rendered original prints. Mimi explains, "These elegant hybridizations of previously disconnected elements create a visual template of an exciting future for fashion."
In her recent collections, Mimi has been gradually going beyond her affinity for neutrals and defying limitations to embrace an exciting spectrum of vivid hues and design elements that embody the push-the-limits confidence of modern women and inspire them to greater heights.
ABOUT MIMI TRAN
Conceived in 2013, the MIMI TRAN Collection represents the culmination of Mimi's dedication to design. Born in Vietnam, Mimi Tran relocated to Paris at the age of seven where she eventually attended boarding school and was recognized as a gifted child in free style art. At 14, her family moved to the United States where she later graduated from college with a bachelor's degree in electrical engineering and began her career at Cisco. She earned an MBA in International Business Management from Santa Clara University, but her artistic side kept pulling her toward a means of creative expression. She eventually began creating cocktail dresses that sculpted the body and accentuated feminine curves before she finally embraced the red carpet-ready glamour of evening gowns. The brand immediately drew a following among fashion aficionados for the sophistication of her black and gold gowns and has evolved to even more daring creations. Today, the San Francisco-based label is sold worldwide in specialty boutiques and stores. http://www.mimitrandesign.com