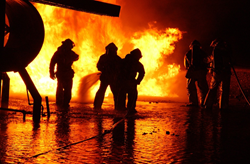 It's crucial for building owners and managers to ensure that properties are fully protected, even (or especially) when they may be unoccupied.
Los Angeles, CA (PRWEB) February 07, 2017
A February 1 article on NBCLosAngeles reports on a blaze that broke out in the City of Downey in a vacant building on the property of an area rehabilitation center. Although the damage to the building appeared considerable, no injuries were reported. Los Angeles area firm Fire Protection Group, Inc. (FPG, Inc.) notes that, while it's obviously fortunate that nobody was harmed, the fire is an example of why it's crucial for building owners and managers to ensure that properties are fully protected, even (or especially) when they may be unoccupied. This is one of many reasons, they add, that owners and managers should find the best fire sprinkler contractor and fire protection firm available.
FPG, Inc. points out that poorly protected buildings that may be vacant still pose a threat to nearby buildings and their occupants. Moreover, those responsible for buildings that are officially unoccupied could be unknowing playing host to squatters and others who could be endangered. The firm says that this reality means that building owners and managers are under a serious obligation to ensure that buildings are as fire safe as possible, while also taking all the needed security options. The firm adds that the deadly Ghost Ship dance party fire in Oakland last December was a deeply painful example of the worst case scenario of what can happen when buildings are inadequately protected.
The good news, says FPG, Inc. is that an experienced and reliable fire sprinkler contractor and consulting team can take a number of steps to ensure that both vacant and fully occupied buildings are fully protected. They stand ready to ensure that their clients are provided with a range of services to ensure that properties are fully protected as cost effectively as possible. These include fire sprinkler and alarm systems, as well as standpipes to ensure that firefighters are supplied with water on all floors of a building. Inspection services are also available to help insure that buildings are both fully compliant with all relevant fire codes.
The leadership of FPG, Inc. is comprised by some of the most respected professionals on the Los Angeles fire protection scene.
These include general manager and lead engineer George Saadian, a noted authority on fire protection. He is joined by former Los Angeles Fire Department (LAFD) chief Al Hernandez, as well as Captain Bob Holloway. Before Captain Holloway retired from the LAFD, he was responsible for construction services at the department. The firm notes that, for many years, they have provided comprehensive protection services for nearly all types of residential and commercial properties throughout the Greater Los Angeles Areas.
Readers who would like to learn more are invited to call (888) 251-3488. They can also visit FPG Inc. online at http://www.firesprinkler.com/.