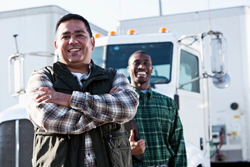 ...Tallgrass Freight will continue to evolve from being a freight broker to being a technology company that brokers freight.
Shawnee, KS (PRWEB) February 08, 2017
At Tallgrass Freight, we understand small-to-mid-sized businesses don't always have the transportation and logistics advantages available to the full-service freight players. While any number of companies can transport from Point A to Point B, it's always preferable to do business with a partner providing the highest levels of customer service. At Tallgrass Freight, customers deserve and receive consistent and reliable freight services.
Growth and Expansion
As a result of trust and leadership in the freight industry, Tallgrass Freight is once again expanding to better serve our valued customers. During 2016, Shawnee, Kansas-based Tallgrass Freight Company increased revenues by more than 50 percent and added 10 new employees. In order to accommodate this growth, the company signed a new lease for larger office space at 6800 Hilltop Road in Shawnee, Kansas.
"Tallgrass is proud to call Shawnee home, and we are extremely excited to expand our business in our new Hilltop offices," said Damon Anderson, Tallgrass Freight Services founder and co-owner.
Work Smarter, Not Harder
Tallgrass Freight also added critical operational improvements designed to integrate with leading full truckload tracking company MacroPoint and the industry leader for Carrier compliance services, RMIS. MacroPoint provides automated tracking services for Truckload and Flatbed shipments along with an improved web interface.
 
"With the success we've experienced in the expansion of our Agent Program and the continuing revenue growth from our existing client base, Tallgrass Freight will continue to evolve from being a freight broker to being a technology company that brokers freight," said David Barnes, COO and Tallgrass Freight co-owner.
Looking Ahead
In 2017, Tallgrass Freight plans to double 2016 revenues and add more than 20 new freight agents to the team. Enhancements to the company's proprietary database positions Tallgrass Freight for scalability now and in the future.
"Tallgrass Freight Company is excited and poised for an extremely successful 2017," Anderson said. "We could not have done so without a staff I couldn't be more proud of, our great carriers and, of course, our loyal customers."
About Tallgrass Freight
Tallgrass Freight Company, a full-service logistics provider, offers a range of transportation and logistics services for small- and mid-size companies. A trusted shipping provider since 2012, Tallgrass offers Less-Than Truckload (LTL), Full Truckload Shipping (FTL), Flatbed Services, Intermodal Services and more. By building and maintaining top-notch carrier relationships and a service-first culture, Tallgrass ensures you will have the truck you need when you need it and the assurance that all deliveries will arrive on time and intact at the best possible prices.