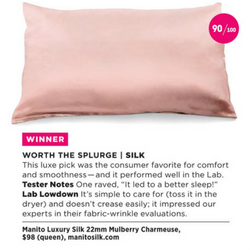 "It Led to a Better Sleep!" - raved one reviewer
Ferndale, WA (PRWEB) February 16, 2017
Due to the recent spike in the popularity of silk pillowcases and an influx of brands claiming a myriad of benefits, the Good Housekeeping textile lab put 13 brands of silk pillowcases to the test. The result: Manito's silk pillowcase is the consumer's choice pick smoothness and comfort.
"This luxe pick was the consumer favorite for comfort and smoothness and it performed well in the Lab", states the Good Housekeeping lab report.
The Good Housekeeping lab independently tested silk pillowcases to help consumers decipher health, hair and beauty benefits and peaceful sleep. Not only did Manito's silk pillowcase rate for smoothness and comfort, it tested to be durable, washed well and withstood wrinkling.
"It's simple to care for and doesn't crease easily; it impressed our experts in their fabric-wrinkle evaluations," says the Good Housekeeping report.
It is the quality of smoothness that leads to the benefits of silk. The smoothness has less friction on hair and skin resulting in less damage to hair and skin. Smoothness is the secret to silk benefits.
Manito Luxury Silk achieves this smoothness by using age-old craftsmanship and traditional manufacturing techniques. Their Mulberry silk has a deep Charmeuse weave exclusive to Manito giving it unmatched softness. Its 22 momme weight is optimum for bedding, resulting in a balance of depth, drape and durability. While Manito uses ancient techniques to create the silk, it uses modern colors ranging from white, blush, chocolate, charcoal, light grey blue and Pantone's 2017 color of the year, soft green. A deep cuff with a skillfully made French seam adds detail and elegance to Manito's silk pillowcases.
Manito Luxury Silk offers pillowcases, shams, sheets, duvet covers and a sleep-inducing eye mask available at select stores and online.
About Manito Luxury Silk Bedding and Silk Sleepwear
Not all silk vendors are created equal. Manito Luxury Silk Bedding and Silk Sleepwear is headquartered and maintains inventory in North America. They offer free shipping anywhere in North America for orders of $50 or more and a 30-day 100% satisfaction guarantee. Manito designs its products in North America, for western colors, tastes and style. Its parent company manufacturers everything Manito Luxury Silk Bedding and Silk Sleepwear sells. Manito Luxury Silk provides the finest silk bedding and sleepwear products available in North America, with unparalleled quality of material and craftsmanship.