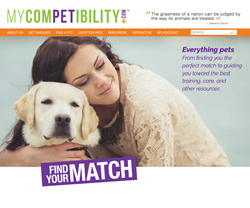 "With almost 400 registered shelters and rescues, we are going national and expect to have over 1,000 registered during Q1 2017. As our numbers continue growing at this rate, we'll be helping countless animals across the nation." - Ryan Vayo, Founder/CEO
(PRWEB) February 07, 2017
MycomPETibility.com is the first pet adoption website designed to match adopters with the perfect pet waiting in a shelter/rescue either nearby or throughout the US. The algorithm-based pet adoption site, launched on the East Coast early 2016, is now available to adopters and shelters/rescues nationwide, all free of charge.
Founded by pet lovers for pet lovers, mycomPETibility.com is bringing much needed changes to the pet adoption industry on a national level:

In an industry where over half of the approx. 7 million pets that enter shelters each year are either euthanized or won't find a home, we aim to increase the total number that find homes and cut down on the 20% of animals that may end up being returned.
In a world where lifestyles are hectic, focus on pets greater, and digital solutions are the norm, we offer a website that helps to simplify the daunting task of finding a pet that will be the right fit for you and your family.
In a growing digitally social world, we provide an online community for pet owners of all types to research, locate resources, share information, and help to promote adoption and responsible pet ownership.
CHECK OUT OUR LATEST VIDEO PROMOTION HERE: https://www.youtube.com/watch?v=OJFRTk1yQdc

For general inquiries contact info(at)mycompetibility(dot)com
To request an interview or additional information for publication contact our Founder/CEO at ryan.vayo(at)mycompetibility(dot)com or by phone at 339-788-7617
Shelters and rescues can sign up to post pets at http://www.shelter.mycomPETibility.com