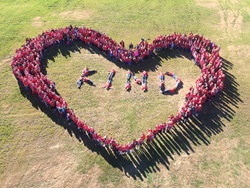 The Great Kindness Challenge proactively creates a culture of kindness in schools nationwide, creating a ripple effect that is felt throughout communities and across the globe
Carlsbad, California (PRWEB) February 07, 2017
Kids for Peace announced today that over ten million students inspired half a billion acts of kindness during the 2017 Great Kindness Challenge, which took place in schools all over the world January 23-27th, and even inspired ABC's Good Morning America to jump in on the fun every day of this transformational week. The Great Kindness Challenge was created in 2012 to address school bullying and to foster connection, inclusion and compassion. The program officially launched in Carlsbad, CA with 3 schools and 1,614 students. The annual program has multiplied in enrollment each year, having grown to 10,493,866 students in 15,057 schools, reaching across all 50 states and 91 countries.
Schools and students are drawn to the program for its positive and proactive approach to creating kinder school climates through a simple checklist of 50 intentional acts of kindness. The checklist is distributed to students at the beginning of The Great Kindness Challenge week. Students are encouraged to complete each kind act over the course of the week, as well as take part in additional community-building events and global service projects.
Jill McManigal, founder and creator of The Great Kindness Challenge, explains, "With many people feeling that our country is more divided than ever, there is a great need for unity, compassion, love, and respect in our schools, communities, country, and world. The Great Kindness Challenge proactively creates a culture of kindness in schools nationwide, creating a ripple effect that is felt throughout communities and across the globe."
That ripple was felt by Good Morning America's Jesse Palmer. "Obviously, this week is just something we had to be a part of," he said. "And I learned kindness is not just for kids."
Community members all over the world agree. Thousands of schools invited their elected officials, fire fighters, police officers, veterans, local businesses, and other community members to cheer on the students with Kindness Community Tunnels, city proclamations, kindness stations, and special incentives.
While the excitement of The Great Kindness Challenge is enormous, it is the simple acts of kindness that prove to be the biggest hit. Some of the items on the checklist are: smile at 25 people, help your teacher with a needed task, help a younger student, and sit with a new group of kids at lunch. McManigal explains, "When students perform kind act after kind act, kindness becomes a habit. And when kindness becomes a habit, peace becomes possible."
One child from Edison Elementary of Eugene, Oregon was particularly moved by the simple kind act "Invite a new friend to play" from the Junior Edition checklist. "I was having a hard time finding out who to play with at recess but Persaeus invited me to play with her and her friends. That made me very happy."
Many students reached beyond their schools into their communities when completing the checklist's "Create your own kind deed." Students from a fifth grade class at Central Primary, Arkadelphia, Arkansas made skid-free socks for elder friends at their local senior center. At K.I. Jones Elementary School in Fairfield, California, students organized a school wide drive, collecting one year's supply of toilet paper for a local shelter for women and children.
Perhaps the furthest reaching act on the checklist is "Make a wish for a child in another country." This year, Kids for Peace invited all Great Kindness Challenge schools to complete this kind act by participating in their global service project, Kind Coins for Pakistan. The goal is to raise enough money to build a fully equipped school and peace center in a remote village in Balochistan, Pakistan. Schools have answered the call by hosting water bottle recycling drives, kindness cookie sales, and wishing well coin drives. In addition to donating money for the school, students are invited to submit a photo for a "Wall of Wishes" to be built inside the new schoolhouse.
During the 2016 Great Kindness Challenge, schools united to raise enough money to build a fully equipped six -room schoolhouse in the remote village of Mikei, Kenya. The global service project not only brightened the spirits of the children and their families in Mikei, it buoyed the spirits of all the participating students.
With the help of national media coverage from Good Morning America, Good Housekeeping, Huffington Post, ABC News, Yahoo News and others, The Great Kindness Challenge has engaged 1 in 5 school-aged children in the United States. "Our team is thrilled to have enrolled ten million students in 2017," said McManigal. "But now, we have even bigger goals. We intend to have The Great Kindness Challenge in every school in the United States by 2020, creating a culture where all people care for and respect each other."
No matter where you live or what you believe, kindness is a value we can all agree upon.
About The Great Kindness Challenge
The Great Kindness Challenge is one school week devoted to performing as many acts of kindness as possible, choosing from our checklist of 50 suggestions. The GKC has the power to increase empathy, tolerance, and compassion for all students from kindergarten through high school. Schools may still get involved by registering at no cost here: http://greatkindnesschallenge.org
The Great Kindness Challenge is made possible by the generosity of presenting sponsor Dignity Health and supporting sponsors: Peaceable Kingdom, KIND Healthy Snacks, Little Pickle Press, ViaSat, Nordson, Datron, NRG, SDG&E, Servant Leadership Institute, and McGraw-Hill Education.
About Kids for Peace
Kids for Peace is a California-based global nonprofit that provides a platform for youth to actively engage in socially-conscious leadership, community service, arts, environmental stewardship and global friendships. Founded in 2006 by a mother and a Carlsbad High School honors student, Kids for Peace has now launched over 350 chapters on six continents. All Kids for Peace activities are based on the Peace Pledge, wise words written by children to inspire peace for all.