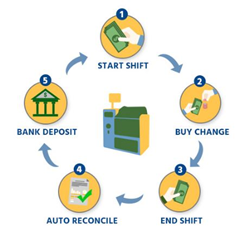 It is through this trust & collaboration [with our hotel clients] that we were able to rewrite cash management best practices & develop our solution to exceed expectations.
Chicago, IL (PRWEB) February 08, 2017
Since its launch in early 2016, hotel properties throughout the United States from all major hotel brands have installed Evention Cash Recycling to automate the cash management process. Over 80 locations in the United States and Canada now leverage the integration of Evention SecureDrop software into cash management hardware to streamline the cash process.
In just one year, Evention Cash Recycling has completely transformed hotel cash management with breakthrough automation and industry-first solutions, saving operators and ownership time, frustration, and money.
With the powerful and unique integration of advanced cash recycling hardware and automated reconciliation against the POS and PMS, Evention is the only company that has solved the complete puzzle of hotel cash management.
Upon installing Evention Cash Recycling, hotel properties achieved a full ROI within only 10-12 months. With Evention Cash Recycling, cashier employees start and end their shifts in less than one minute and audits are automatic. Cashiers also have self-service duebacks and 24x7 access to buy change. This unique automation enabled hotel properties to increase overall monthly productivity by saving hundreds of hours in operations.
This solution eliminated thousands of dollars in monthly operational expenses, which hotel management personnel have long dubbed as "sunk management costs". Not only did this solution cut courier fees and decrease labor, but Evention Cash Recycling also reduced the house float by nearly 50% at these hotel properties.
"We thank our many hotel clients that partnered with us in 2016 to launch the new Evention Cash Recycling program into their brands," stated Mike Baldinger, Co-Founder at Evention. "It is through this trust and collaboration that we were able to rewrite cash management best practices and develop our solution to exceed expectations. We are honored to be able to work so closely with our customers and look forward to delivering so much more in 2017."
Evention continues to enhance this solution and expand its capabilities. Implementation options are now available for a wide range of property types, from select-service to upscale and luxury hotels. In addition, over the past year, Evention developed a completely mobile-friendly platform for its software, providing management with visibility to their cash reconciliation from any location.
Recognized as a game-changing solution for the hospitality industry, Evention Cash Recycling was selected as a finalist in the TechPitch Competition at HX: The Hotel Experience Show this past November. Evention was also invited to present its Cash Recycling solution at several events in 2016, including various regional and national conferences for several major hotel brands.
With numerous Evention Cash Recycling installations currently underway throughout the United States, this year's Q1 installation schedule is fully booked. Evention is now accepting orders for Q2 Cash Recycling installations.
More Information:

Learn more about Evention Cash Recycling at the upcoming webinar How to Say "No" to Manual Cash Counting & Reconciliation: Introduction to Evention Cash Recycling on Thursday, February 16 at 1:00 PM CST – See details & registration here
Contact Evention to schedule a demonstration
View more information at eventionllc.com