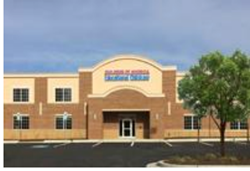 "Our nutrition and fitness element helps children to develop an understanding of healthy food choices." said Jim Perretty, Children of America, CEO
Bowie Maryland (PRWEB) February 08, 2017
Children of America, the #1 preschool in America, announced the launch of its newest childcare facility in Bowie, MD. "We wanted to bring our particular brand of programming to the families of Bowie," said Jim Perretty, Children of America CEO. "Currently, COA has three other schools in Maryland, so the expansion into Bowie fits nicely with our strategy for sustainable growth."
Perretty adds, "Our childcare programming is second to none. COA Mind & Body Matters, integrates four essential disciplines for maximum child development including curriculum modules, dynamic reading products, and a nutrition and fitness program. Our nutrition and fitness element helps children to develop an understanding of healthy food choices and supports family life with nutritional tips and recipes."
Perretty went on to say, "We will continue to bring cutting-edge learning techniques to the children we serve along with vigorous training for staff members. This keeps us on the forefront and give our families what they deserve, the very best in daycare services."
COA childcare, will serve infants, toddlers, preschoolers and school-aged children for families in Prince George's county. A Grand Opening Event is scheduled at Children of America, 15514 Annapolis Rd. Bowie, MD 20715, Saturday, Feb. 11 from 10 a.m. to 2 p.m., the school opens for business Monday Feb. 13, 2017. The event will feature games and refreshments for the whole family with special enrollment offers. Tours will be available during the event.
About Children of America
Children of America operates facilities throughout Delaware, Illinois, Indiana, Maryland, Massachusetts, New Jersey, New York, North Carolina, Ohio, Pennsylvania, Virginia and Wisconsin. The company plans to open 50 new facilities across the country over the next five years. COA offers the highest level of care for children ages six weeks to twelve years of age. The premier programs include infant care, toddler care, nationally renowned preschool and pre-kindergarten programs, before-and-after school care, and summer camp. An industry pioneer, Children of America is a subsidiary of World Wide Child Care Corp. Visit childrenofamerica.com for more information or interact with COA on Twitter and Facebook.