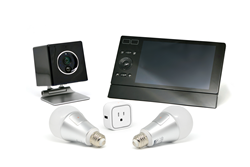 We're thrilled to be a small part of the Gift Lounge for the GRAMMY Awards. Right from "Hello", Oomi is different...It's easy peasy "Lemonade" squeezy."
Chicago, Illinois (PRWEB) February 07, 2017
Fantem announces that its award-winning smart home system, Oomi, will be part of the Gift Lounge for the 59th Annual GRAMMY Awards®. The show's presenters and performers will be gifted with Oomi Home, a smart home starter kit that turns an ordinary home into a smart home, as a thank you for their participation. Some of the 59th Annual GRAMMY Award presenters and performers include Bruno Mars, John Legend, Carrie Underwood, Adele and is hosted by The Late Late Show star James Corden.
Out of the box the Oomi Home kit offers impressive capabilities; improving home security, enhancing comfort and ambiance, and controlling entertainment. At the core of an Oomi home is Oomi Cube, the super functional hub with Wi-Fi camera, and Oomi Touch, the elegant touch screen controller similar to those typically seen in high-end custom installations. In addition to Oomi's superb functionality, recipients will be pleased with its stunning design and user friendliness. It begins with set-up that is so simple it's actually fun. Any Oomi accessory, from multi-color light bulbs to smart plugs, can be connected and controlled with just a tap of Oomi Touch. With Oomi, anyone can have a smarter, more secure home in less time than it takes to brew a pot of coffee.
"The GRAMMYs® are a celebration of diverse tastes, interests, and style," says Colin Marshall, Vice President at Fantem. "Right from 'Hello' Oomi is different. We 'Can't Wait' for the recipients to enjoy its 'Trouble' free set-up. Regardless of desired 'Purpose', using Oomi is 'No Problem' and we're 'Confident' it won't leave anyone 'Stressed Out'. It's easy peasy 'Lemonade' squeezy. With Oomi, 'Coming Home' from 'Work' will never be the same."
Oomi is expected to be available in retail outlets and on-line this Summer, but Oomi Home is currently available for preorder (with early shipment in the Spring) at the Oomi website, https://shop.oomi.com/ for $599, and includes:
*Oomi Cube – A super functional hub with six environmental sensors, a speaker for sounding the alarm, a high-definition security camera with night vision, and more.
*Oomi Touch – The sleek in home controller with 7-inch touch screen and tactile buttons for controlling entertainment systems.
*Infinity Dock – A charging station and stand for Oomi Touch that can also trigger a favorite scene.
*Oomi Plug – A plug in device that turns any outlet into a smart outlet and offers energy consumption monitoring.
*Two Oomi Bulbs – Wireless illumination in multiple shades of white and 16 million colors.
The GRAMMY Awards will be held on Sunday, February 12, 2017, at STAPLES Center in Los Angeles and will be broadcast live in high definition TV and 5.1 surround sound on the CBS Television Network from 8 – 11:30 p.m. (ET/PT).
About Fantem
Fantem is focused on enhancing people's lives through the development of innovative lifestyle products and solutions. From simplifying the smart home to creating the first ever 3D lens for action cameras, Fantem is re-imagining the technologies that make life more enjoyable. In 2014, Fantem began a mission to remove the complexity and frustration associated with smart home systems and technologies. Through thoughtful consideration of consumer goals, Fantem re-imagined the experience from the ground up. The result is Oomi, the easiest and most approachable smart home system available anywhere - "a system designed for the rest of us!" Now anyone can have a smart home, regardless of their comfort level with technology. For more information, please visit http://www.oomi.com , and follow us on Facebook and Twitter @oomihome. Fantem has offices in Chicago and Shenzhen and strategic partners in four continents.
About The Recording Academy®
Established in 1957, The Recording Academy is an organization of musicians, songwriters, producers, engineers, and recording professionals dedicated to improving the cultural condition and quality of life for music and its makers. Internationally known for the GRAMMY Awards—the preeminent peer-recognized award for musical excellence and the most credible brand in music—The Recording Academy is responsible for groundbreaking professional development, cultural enrichment, advocacy, education and human services programs. The Academy continues to focus on its mission of recognizing musical excellence, advocating for the well-being of music makers and ensuring music remains an indelible part of our culture. For more information about The Recording Academy, please visit http://www.grammy.com.