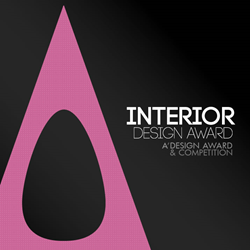 Como, Italy (PRWEB) February 07, 2017
A' Design Award & Competition announced its call for nominations to the 7th Annual International Interior Design Awards open for interior designers and companies from all over the world.
The A' Interior Design Awards serve to recognize, reward and celebrate design excellence across a broad range of categories related to interior design including product design, lighting design, furniture design, and architecture as well as restoration or preservation projects, trade show booths and museum exhibitions. The A' Interior Design Awards invites interior designers, architects and design teams worldwide to submit their best conceptual, in progress or completed work that were imagined in the last 10 years.
Entries to the Interior Design Awards are voted by a multinational jury panel that consists of industry experts, academics, design professionals, press members as well as architects. Nominated projects are judged for both technical content and aesthetic creativity to ensure that only the entries that truly demonstrate fresh, artistic, and extraordinary approach to interior design would be highlighted. Submitted works are expected to demonstrate advancement for social, technical, environmental and economic factors.
Laureates of the 7th A' Interior Design Awards will be given two complimentary tickets to join the A' Design Award's glamorous black tie Gala-Night and Award Ceremony together with a coveted A' Design Prize which includes a series of PR and marketing services for winners including but not limited to: translation of project descriptions to twenty languages, press release preparation and distribution, lifetime license to use the winner logo and certificate as a part of communications and marketing, inclusion in designer rankings as well as a special interview with the award winning designers. Award winners will also be given the special 3D printed metal award trophy, the certificate of interior design excellence and a hardcover yearbook of spatial best projects. A' Interior Design Award winning designs will be exhibited in Italy and abroad in addition to inclusion in the online gallery of best interior projects.
Entries to the A' Interior Design Awards shall be made before February 28th 2017. Results will be announced on April 15 through a wide network of design oriented media partners.
About the A' Design Awards
The A' Design Award & Competition is one of the worlds' largest and most successful independent design awards program reaching all countries and covering many disciplines. The A' Design awards program celebrates the best of product, service, graphic and spatial design across hundreds of categories and trophy is given for the winner designs that demonstrate the highest level of achievement within their category, in accordance with the judging criteria. The ultimate aim of the A' Design Award & Competition is to push designers and architects to come up with superior works that benefit society. Learn more at http://www.whatisadesignaward.com