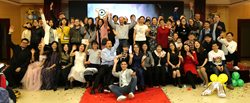 We take an holistic approach to product quality
San Francisco, CA (PRWEB) February 08, 2017
A decade ago a veteran of the tech industry, Philip Lew, launched a new company dedicated to providing cutting edge software quality assurance services to companies large and small. Today, that company, XBOSoft, is among the leaders supporting companies to improve the quality of their software.
XBOSoft will mark its Tenth Anniversary at the DeveloperWeek trade show in San Francisco. Lew and key members of XBOSoft's leadership team will be at booth 241 for two full days (Feb. 14-15) during the run of the show, Feb. 11-16. Lew and others will be available to discuss the company's history, growth and services. The company celebrated the milestone in January with XBOSoft's employees in Beijing, China, who perform most of the software testing and software QA consulting.
A graduate of Cornell University (Masters in Operations Research and Industrial Engineering) and Beihang University in Beijing, China (PhD in Computer Science and Engineering), Lew launched his first startup, Pulse Technologies, shortly out of college. It was acquired by EIS International, after which Lew worked for a series of technology firms in various capacities.
In founding XBOSOFT, he chose to focus on software quality assurance because of its obvious value add in producing software.
"To XBOSoft, quality is not just about testing software to find the defects," Lew says. "We take an holistic approach to our client's product quality, evaluating not only the software, but the systems and processes that are in place to develop the products."
With such clients as financial automation software provider BlackLine; Mobile Medsoft, a long term post-acute care (LTPAC) technology provider that offers pharmacy management systems that integrate with EHR systems, robotic interfaces and cloud enabled mobile point of care platforms that serve patients in various health care settings; and Benbria, a leading provider of text and mobile guest engagement solutions; XBOSoft has built a reputation for providing thorough and effective solutions to improve quality throughout the software lifecycle.
Lew is a frequent presenter at tech conferences on such topics as Agile testing, mobile testing and Agile risk management. He will be presenting a keynote speech at TestIstanbul in April, will be a presenter at the Atlanta Quality Assurance Association's April meeting, and will present in June at the Better Software West conference in Las Vegas.
While XBOSoft's software quality process consulting team can address issues across a range of industries, it has developed special expertise in mobile, healthcare and finance sectors.
"XBOSoft provides software quality consulting and testing services for companies that are continually under pressure to shorten release cycles while increasing quality," says Stephen Gohres, vice president, business development. "Rather than just adding more resources, these companies need a game plan for long-term software quality assurance improvement as part of their competitive position. That's our specialty--providing those long-term solutions to the quality life-cycle. Our team implements process improvements with flawless execution."
Headquartered in San Francisco, XBOSoft has offices in the U.S. and China. Services include both onsite and virtual consulting designed to deliver quality assurance assessments and advice on best practices.
Want to talk quality with the experts at DevWeek17? Drop by booth 241. Philip and Stephen will be there Feb. 14-15. To set a specific time to talk to them, call or email Dan Cook at ddcookservices(at)gmail(dot)com, 503-442-1839.