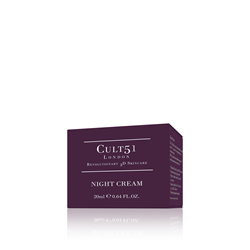 Boca Raton, FL (PRWEB) February 08, 2017
Cult51, A luxury skincare brand based in London, United Kingdom, announced its products will now be available for purchase on Amazon.com, the world's largest online retailer.
Cult51 Night Cream is known for its elite, luxury skincare capabilities, and has gained global momentum becoming so popular that there is now a waitlist of more than 5,000 women to receive the product. Chemist Richard Mears spent two years developing the multi-active night cream, which is abundant with scientifically advanced ingredients at extremely high levels of concentration. Each application features an impressive 51 anti-aging benefits, with long-term, lasting results.
"We are thrilled to announce our Cult51 night cream is now available on Amazon.com," said Mears, the owner and founder of the skin care line. "We put our products through fully independent clinical testing with 100 percent of all panelists showing significant improvements in skin measurements of every criteria. Now, we want to be able to make these luxury products available to a much broader range of people. Amazon.com ships worldwide and is a tremendous asset for us as we work to build our company and product availability."
Mears developed the product with the intent of making skin care much easier. So many women get frustrated with having to use multiple products for different areas of the face, and Mears believed it would be possible to develop a "one-cream skin regime" for the face without having to compromise on the ingredients. He succeeded in his goal, and since then, his product has been featured in blogs and magazines throughout the UK, with celebrities such as Nicole Scherzinger being proud to use it.
Cult51's night cream features a combination of key active ingredients that work together with the skin's own molecules to encourage better growth and generation of new cells. As a result, the cream promotes production of collagen and hyaluronic acid while protecting against the effects of aging. The result: finer lines, reduced wrinkles and age spots, brightened skin tones and a more flawless and radiant appearance.
"We look forward to the opportunity to bring Cult51 to more women than ever before to help them prevent the effects of aging in a more convenient and reliable way," said Mears.
For more information on Cult51, visit http://www.cult51.com.