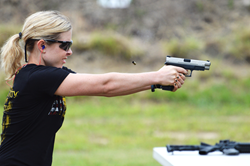 "I was very excited to attend the first annual Concealed Carry Fashion Show in 2015. It was well attended. I had just begun shooting for sport, and was amazed at all the products and services available for shooters… Jere Neal
Fayetteville, NC (PRWEB) February 08, 2017
We are now two months away from our Feminine & Fierce: Concealed Carry Fashion show & Expo! The Concealed Carry Fashion Show will exhibit many different styles of holster wear for women and men, promote responsible gun ownership, have expert speakers discussing a wide variety of topics, and will bring the community together for a day full of fun, learning, and shopping opportunities!
We are very fortunate to have Cumberland County Commissioner and Attorney at Law Michael Boose, speaking this year on Gun Laws and more! This one of a kind event will be held on Saturday, April 8th, 2017 at the Crown Coliseum ballroom located at 1960 Coliseum Drive, in Fayetteville, NC.
Tickets for the event are now on sale and vary from General Admission to VIP; VIP ticket holders will have preferential seating for the fashion show, an upgraded goody bag, and a voucher for lunch. The Fashion Show will run two times throughout the day one at 1: 00 PM (EST) and 4:00 PM (EST).
Vendor shopping will be available from 11:30 AM (EST) to 6:00 PM (EST). Pick which show you would like to attend and take advantage of the amazing shopping opportunities before or after the show.
Gun Powder Gals, a women-only shooting league, are very passionate about empowering women to learn how to protect themselves and their families. We believe the best way to build a strong country and a strong family unit is to educate women on how to protect themselves, their loved ones, and their homes. Therefore, we believe this event is so special!
If you are interested in being involved with this unique event, you may either sign up as being a sponsor or have a strategically placed vendor table. For more information, please Click Here to refer to our attached sponsorship and vendor packets or contact the media contact associated with this press release.
We would like to thank everyone for the support thus far, especially our premier sponsor: Up and Coming Weekly as well as our Silver sponsors: Down East Hearing Care Associates, Shooters Supply, Independent Damsel Pro Molly Hayden, and Global Gun Safety. This event has been a dream and passion of ours, and we are very excited and fortunate to be having it.