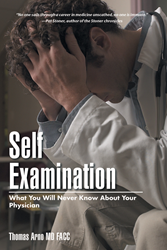 CHARLESTON, SC (PRWEB) February 13, 2017
Growing up, Thomas Arno, MD FACC had a passion for medicine and said he always wanted to be a doctor. Now retired, Arno has spent much time reflecting on his career as a physician, which inspired him to write "Self Examination."
Arno's first book is an autobiography telling a unique story about becoming a physician. "Self Examination" includes what it takes to become a good doctor, as well as what happens out of sight. Arno leaves nothing to the reader's imagination sharing details about medicine from the "other side" during his near-death experience.
"I wrote this book because I think it is important for people to understand what doctors go through to become physicians," said Arno. "The stressors one does not see or openly discuss may result in people wondering why their doctor is not more personable, or is in always in a hurry."
Arno said he wrote "Self Examination" to educate the public about what one pours in to their life for the many years of post-college training to become a physician. Writing "Self Examination" was also a way for Arno to encourage his colleagues to always remember why they became doctors.
"When writing 'Self Examination,' I tried to look from the reader's perspective," said Arno. "I thought about what the reader would want to know about a doctor's life and what happens to the individual during trying times."
"Self Examination"
By: Thomas Arno, MD FACC
ISBN: 978-1-51275-561-9 (hc); 978-1-51275-560-2 (sc); 978-1-51275-559-6 (e-book)
Available at WestBow Press, Barnes & Noble and Amazon
About the author
Thomas Arno graduated in 1974 and has 38 years of experience in the medical field. He is board certified in internal medicine and cardiology, as well as board eligible for critical care management. Arno plans to donate all proceeds from "Self Examination" to the American Cancer Society. For more information, please visit http://www.tomarnomd.com.
# # #
Review Copies & Interview Requests:
LAVIDGE – Phoenix
Courtney Coombes
480-998-2600 x 612
ccoombes(at)lavidge(dot)com
General Inquiries:
LAVIDGE – Phoenix
Maggie Driver
480-998-2600 x 584
mdriver(at)lavidge(dot)com