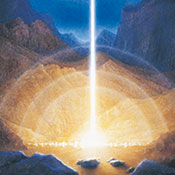 A student of life.
(PRWEB) February 08, 2017
Eckankar Center announces upcoming event " A Journey of Spiritual Discovery."
"I always knew there was something more."
Saturday, February 11, 5:30–9:00 p.m.
Eckankar Center of San Antonio
1603 W. Lullwood St., 78201
(Behind Eckankar parking lot on 1700 W. Hildebrand)
Free Admission (No registration required)
People who have been "pushed from the nest, spiritually speaking," or have sought answers to questions they may not even know how to ask are invited to discover more to life... to explore greater spiritual freedom in the company of other seekers and explorers.
Program highlights:

A youth panel will explore ways some young people today are approaching the spiritual life in the modern, digital-social media age.
A video, Dreams: A Source of Inner Truth, and a musical performance will express God's love for us as spiritual beings.
Keynote speaker Don Elefante—a long-time Eckankar cleric and published author on spirituality—will invite you to consider how Divine Spirit can work for you every moment for the benefit of all life.
Open discussions in small groups, including those in Spanish, will allow the person to share if you wish to. Topics will include the spiritual study of dreams, the role of reincarnation and past lives, and an introduction to HU, a love song to God. HU has been known to spiritually strengthen and support countless lives from the inside out.
Attendees will also have access to free booklets that cover a variety of topics. Drop in or stay all evening! Se habla español.
This event is presented by the Texas Satsang Society, Inc., a chartered affiliate of Eckankar.
For more information call the San Antonio Eckankar Center at (210) 737-6863 or visit http://www.Eckankar-Texas.org/p/discover.