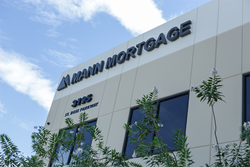 "Every loan closed represents a member of our community who has achieved the dream of home ownership."
Las Vegas, NV (PRWEB) February 08, 2017
Mann Mortgage Las Vegas opened their second Las Vegas branch on February 1, 2017. Located at 8880 W. Sunset Road Suite 275 in Southwest Las Vegas, this new full service branch is conveniently located just off the 215 Beltway. "Having a second location helps to ensure our high level of service will be available to all Valley residents," said Branch Manager and Owner Robert Coomer. Mann's other location is located off of St. Rose Parkway in Henderson.
Betting on Las Vegas
The opening of Mann's second Las Vegas branch will create a number of new local jobs and the company plans to hire even more employees as it fully expands into the new space. "I have lived in Las Vegas for over 20 years and am incredibly proud to be a part of Mann Mortgage's continued investment in the community," said Coomer. "We are so grateful every day for the way the community has embraced us as well."
New Leadership
Long time industry expert Ryan Howard will transition into the Branch Manager position at the new location. Mr. Howard, a dedicated father and husband, has 15 years of experience in both real estate & finance. "Ryan's depth of experience and his standing in the community make him the perfect choice to lead our new location," said Coomer.
Strong Growth
Since the opening of Mann's first location in 2015, the company has grown tremendously. Mann Mortgage Las Vegas funded over $200 Million worth of home loans in 2016. "We closed 863 loans last year and plan to do even more this year," said Coomer. "Every loan closed represents a member of our community who has achieved the dream of home ownership."
About Mann Mortgage
Mann Mortgage was founded in 1989 in Kalispell, MT. The business was built on a foundation of integrity, relationships and a genuine concern for family and community. The foundation that it was built on has held strong and has allowed Mann Mortgage, to not only endure the recent mortgage crisis, but to continue to thrive as families and lenders look for stability and integrity even in uncertain times. Mann Mortgage is dedicated to responsible and ethical lending practices. For more information call 702-850-6794.