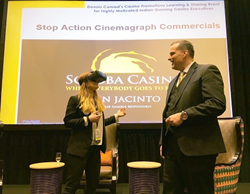 San Jacinto, CA (PRWEB) February 07, 2017
An astonished and impressed audience of casino marketing professionals from across the country watched eagerly as the prospects of gaming advertisement expanded before their eyes.
The conference, a long-running educational experience specifically designed for tribal gaming executives, embraces hundreds of marketing teams, general managers and tribal decision makers from casinos across the United States and Canada each year to learn, expand and share in the casino marketing strategies that work best for tribal casinos. This year, and for the first time ever, implementation of the new 3D and Virtual Reality marketing strategy was brought into light. According to Scott Sirois, General Manager of Soboba Casino, "This is a step forward into an innovative advertising platform for Indian Gaming, and Soboba is proud to be the first casino in the world to embrace the technology." He continued, "We are constantly challenging ourselves to be the ground breakers, and trend setters, creatively, conceptually, and technologically."
Produced with the assistance of Soboba Casino's agency of record, Advanced Marketing Strategies of San Diego, Ca, the 30 second clip features an immersive experience of the casino's gaming floor emphasizing their slot and table games product. This marks another incredible milestone in the casino's history of firsts, being the first casino in the world to create a VR casino commercial that can be used both traditionally on TV or in conjunction with VR headsets for an "immersive" experience. It takes the experiential notion of advertising one step further into the future. Kathy Cunningham, President of Advanced Marketing Strategies stated, "It's been a thrill working with Michael Broderick and the marketing department at Soboba on our first virtual reality video project. Staying on the cutting edge of marketing technology keeps Advanced Marketing Strategies and Soboba one step ahead of the competition. We are proud to have played a part in being the first gaming industry in the entire world to do this."
Soboba Casino's groundbreaking and visionary commercial and VR experience can be found here:
https://www.youtube.com/watch?v=YOsZx-7oOCg
https://www.youtube.com/watch?v=jnwJYCOYnuI
Soboba Casino features approximately 2,000 of the newest, hottest slot machines, an expansive and modern non-smoking room, 20 classic gaming tables featuring all your favorite card games, and a large outdoor event arena which easily accommodates over 10,000 people. Need to recharge & refresh? Visit the cozy Soboba Café and Coffee Kiicha, or experience AC's Lounge with full cocktail bar and three giant HD flat screens including the "Sobobatron", the Inland Empire's biggest HD video wall. Soboba Casino is proudly owned and operated by the Soboba Band of Luiseno Indians. Come join us for all the fun and then some! Soboba Casino. Where Everybody Goes to Play!
For more information visit: https://soboba.com/
Soboba Casino: 23333 Soboba Road, San Jacinto, CA 92583, (951) 665-1000