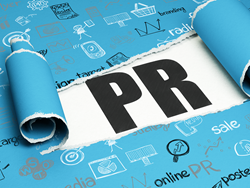 Fort Lauderdale, FL (PRWEB) February 07, 2017
Experience Advertising, Inc. a leading digital marketing agency, in business since 2007 and Founded by digital marketing expert Evan Weber, has launched their Influencer outreach, prospecting, and relationship management services. Their Influencer outreach programs are cutting-edge in the ecommerce industry and are designed to deliver results for companies looking to partner up with all types of influencers such as: media, PR, bloggers, social media personalities, and other influential people online.
Evan Weber, Founder and CEO of Experience Advertising, Inc. stated, "One of the most essential aspects of a truly comprehensive digital marketing and online advertising strategy, is to have a really effective approach when it comes to digital PR. Not PR in the traditional sense, i.e. print magazine articles, local TV news pieces, and a story in the local newspapers here and there. Those days are long gone. In this age of the online revolution, it's abundantly necessary to leverage the Internet and Social Media in particular to craft robust, effective, measurable, creative, and forward-thinking online PR strategies for companies we work with. At Experience Advertising, Inc. we have designed extremely effective, ultra-modern, online PR strategies that blanket each client's industry and/or marketplace with a steady flow of company news, exciting promotions, valuable information, and engaging content."
Here are some of the strategies Experience Advertising uses with their clients to deliver cutting-edge online PR:.

Media Outreach and Relations – since PR has moved online, Experience Advertising implements outreach to their internal media databases to contact very targeted journalists, editors, and other types of contacts in digital media on a per industry basis. Through a refined outreach process, they are able to identify and land quality placements for their clients.
Influencer Outreach and Relations – working through their Influencer database, Experience Advertising focuses on contacting and collaborating with all types of web-based and social media based influencers, as a major part of their online PR strategy for clients. They create amazing campaigns for their clients that are promoted by influencers in ways specific to their audiences.
Blogger Outreach and Relations – Experience Advertising also maintains a large database of bloggers in 100's of niches and micro-niches. They work with bloggers, on behalf of their clients, in several ways. Some of the most common ways include: review posts, sponsored posts, unboxing posts, promotional posts, email newsletters, solo email campaigns, website/blog ad unit placements, sweepstakes promotions, and as affiliates of their clients.
Targeted Content – Weber stated, "One of the most effective ways to build online PR and buzz for our clients is through content creation of various types. Believe it or not SEO is part of our online PR strategy because content needs to be created, in a very proactive manner, on your website, so your website or blog is constantly growing larger and larger with more and more content. With a sustained article and blog posting strategy, we are able to saturate the search results with content that we are creating strategically for our clients. We typically leverage both onsite and offsite content posting strategies to build up organic traffic for our clients. And because we are controlling everything being posted, we are able to take-over and dominate the client's niche and related niches. It's very much tantamount to "reputation management" and in general more effective since we are controlling the frequency, volume, writing optimization, and where it's being posted." Over time, this strategy is used to take over a niche, industry, service type, and location for a client depending on the project and what the client's goals are. Experience Advertising also utilizes quality, SEO-optimized online press releases which, over time, are extremely effective for organic search engine saturation and generating traffic to a website.
Video Creation – creating videos for online PR and content distribution is an integral online PR strategy because there are multiple benefits that come with targeted video creation. Since Experience Advertising has honed and streamlined their video creation process, they are able to implement high volume, targeted video creation for their clients, without it creating a ton of cost for the client. Their videos creation strategy becomes extremely beneficial to each client's overall SEO and organic traffic strategy, because they not only get traffic on Youtube itself, but they also get traffic from Google's search results as well. They also help build out additional blog posts on-site that are optimized to work for the client's website. Since videos can be highly SEO optimized, they function as not only excellent PR pieces that can be distributed on all the social networks, and advertised on them, but they also build up in the client's organic search results, thereby increasing a client's organic traffic and inbound linking, which boosts SEO rankings for the client's entire website. The way Experience Advertising leverages video is very purposeful and designed to build website traffic and revenue for their clients.
Experience Advertising, Inc. provides cutting-edge, online PR strategies for clients of all sizes designed to boost website traffic, increase online PR, leverage bloggers, and maximize content and video for their clients. If you are interested in a complimentary assessment and customized online PR proposal, contact Experience Advertising today.