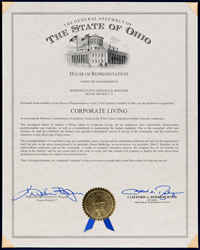 The company has set an example for others in the industry...
Twinsburg, OH (PRWEB) February 08, 2017
The Ohio House of Representatives recognized Corporate Living for consistently demonstrating expertise and professionalism as well as their commitment to maintaining the highest standards.
Corporate Living recently received the Platinum Commitment to Excellence Award at the Cartus Corporation Global Network Conference. The Platinum Commitment to Excellence Award is the highest level of achievement for overall performance.
Corporate Living also received high praise for their exemplary effort and initiative in service to the community.
"The company has set an example for others in the industry, and we are certain that in the years to come, this fine venture will continue to display the same unwavering dedication to excellence for which it has become known," said Kristina D. Roegner, Ohio House of Representatives, District 37.
Roegner also commended the outstanding management team of Corporate Living, which includes President Karen Baldridge, and its Executive Vice President, John E. Brachna, for their hard work and positive impact on the community.
About Cartus
Cartus provides trusted guidance to organizations of all types and sizes that require global relocation solutions. Cartus has served more than half of the Fortune 500 and has moved employees into and out of 185 countries, providing companies around the world with the full spectrum of relocation services, including language and intercultural training. Cartus is part of Realogy Holdings Corp., a global leader in real estate franchising and provider of real estate brokerage, relocation and settlement services. To find out how our greater experience, reach, and hands-on guidance can help your company, visit http://www.cartus.com; read our blog at http://www.cartusblog.com; or click http://www.realogy.com for more information.
# # #
About Corporate Living
Corporate Living is a temporary housing company that provides corporate furnished apartments throughout North America. A certified Women's Business Enterprise through the Women's Business Enterprise National Council (WBENC), Corporate Living has a successful 23-year history in the corporate housing/furnished apartment industry. The company continues to deliver high-quality product, backed by exemplary service throughout the U.S., Canada, India and the UK, with stays of 30 days and longer. Corporate Living is headquartered in Twinsburg, OH, with regional offices in New York City, NY and Phoenix, AZ. Please visit our website at http://www.corporateliving.com to learn more.
# # #