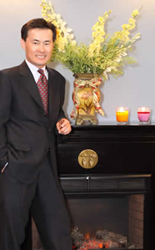 Garden Grove, CA (PRWEB) February 07, 2017
Dr. Jin Kim, a world-renowned periodontist, honors American Heart Month by raising awareness of the link between gum disease and heart disease. To help as many people as possible overcome gum disease in Garden Grove, CA, and prevent the accompanying heart issues that may ensue if left untreated, Dr. Kim is now accepting new patients for laser gum disease therapy, with or without a referral.
Gum disease is a serious condition that often goes unnoticed. Over 47 percent of the U.S. population has some form of gum disease, according to the Centers for Disease Control and Prevention. Many with gum disease are unaware they have the condition until it becomes serious. Early symptoms, including swollen and bleeding gums, do not immediately cause a great level of discomfort. As the disease progresses, patients may experience persistent bad breath, pain, receding gums, bone loss and tooth loss. If left untreated, the infection that causes the gum disease can travel throughout the body. Current research suggests that the risk of exacerbating heart conditions or creating them increases when gum disease is present.
Recommended by an authority in periodontology, Dr. Kim, the LANAP® protocol is a leading, minimally invasive treatment for gum disease. This technique allows Dr. Kim to only target the bacteria that cause periodontal disease, so healthy gum tissue remains intact and untouched. This results in little bleeding and swelling, and patients are often able to return to their regular routines in a very short period of time. The treatment can also help the gums reattach to the teeth, limiting tooth loss.
Patients who may be showing signs of gum disease in Garden Grove, CA are invited to schedule a consultation with Dr. Kim. Doing so can allow them to reduce their risk of heart disease while maintaining a healthy smile.
About the Doctor
Dr. Jin Y. Kim is a periodontist dedicated to providing personalized dental care in Diamond Bar and Garden Grove, CA. Dr. Kim attended the University of Sydney Faculty of Dentistry before furthering his education with an advanced degree in pathology from the Medical School of the same University. Dr. Kim completed a periodontics and implant surgery residency at UCLA School of Dentistry. A uniquely dual board-certified specialist, Dr. Kim was board-certified by the American Board of Periodontology and the American Board of Oral Implantology/Implant Dentistry. The International Congress of Oral Implantologists and the American Academy of Implant Dentistry both gave him the title of Fellow. He was also inducted to be a Fellow of the prestigious American College of Dentists. Dr. Kim enjoys lecturing at UCLA School of Dentistry as well as national and international academic and clinical associations and universities including the International Association of Dental Research, American Academy of Periodontology and Academy of Osseointegration. To learn more about Dr. Jin Kim and the services he offers, visit his website at http://www.drjinkim.com or call (909) 860-9222 for the Diamond Bar location or (714) 898-8757 for the West Garden Grove location to schedule an appointment.