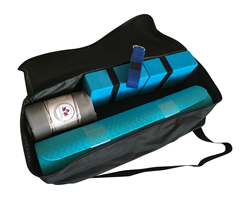 Tampa, Fl (PRWEB) February 08, 2017
"Yoga is not about touching your toes. It is what you learn on the way down." – Jigar Gor
Clever Yoga, a woman-owned online yoga products company, has designed a stylish and fully functional 7-Piece Yoga kit that will give yogis of all levels everything they need to get started (or continue) in their yoga journey with style. The CleverYoga Bundle was recently featured in the Yoga Journal Best of 2016 Yoga Props and Accessories.
Workout fads come and go, but the popularity of yoga has remained strong for more than 5,000 years. Yoga does more than tone muscles and burn calories. It provides a mental retreat from the chaos of daily life. This kit gives all yoga practitioners what they need to reap the numerous benefits of yoga, no matter what level or age. From beginners to seasoned yogis, this bundle delivers premium quality products everyone will love.
The Clever Yoga team members are all yogis who practice daily and understand the need for quality products at an affordable price, and that is exactly what is found in this product bundle. The kit is lightweight and designed to use at home or on the go.
The bundle comes in four color options including blue, purple, green and pink.
Inside the stylish, easy-to-carry bag, there are the following products:

Premium non-slip, ecofriendly and durable BetterGrip yoga mat designed to keep elbows and knees comfortable in all yoga positions. The mat is 100% recyclable, UV resistant TPE material with no toxic materials.
Two durable yoga blocks made from recycled high density eco-friendly EVA foam designed to allow yogis to achieve poses with proper positioning and safety.
8-foot yoga strap made from 100% durable cotton designed to increase flexibility while lowering the risk of injury.
Hand and mat towels to allow yogis to focus on poses without worrying about slipping and sliding from the sweaty yoga session.
About Clever Yoga 
Clever Yoga is an innovative woman-owned and operated company, based in Tampa, Fla. CleverYoga aims to offer superior, reliable products that make a difference in customers' lives. The Clever Yoga team uses meticulous market research and strict quality control and testing to create high-quality products.
Recently, the company has launched an online store using the largest online retailer, Amazon, as their platform. Clever Yoga's online store can be found at Amazon.
Established in 2014, Clever Yoga's mission is to provide reliable, high quality yoga 
equipment, as well as excellent customer care.