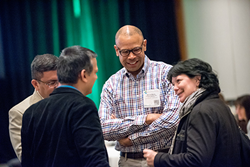 The conference will feature expert keynotes, panels and breakout sessions designed to help the healthcare industry uncover the changes they must make to conquer healthcare reform.
Washington D.C. (PRWEB) February 08, 2017
HIMSS is pleased to announce the return of its Pop Health Forum, a conference designed to help healthcare providers and payers improve care and slow the rise in healthcare spending.
Being held on April 3 – 4, 2017 at The Westin Copley Place in Boston, the forum will bring together the nation's largest group of population health experts to share best practices for patient engagement, care coordination and data analytics.
As the healthcare industry moves from fee-for-service to value-based care, the Pop Health forum will provide much-needed resources for the continuing transition.
"We're pleased to offer practical solutions healthcare providers can use right away to overcome common challenges," explains John Whelan, Executive Vice President, HIMSS Media. "The conference will feature two full days of expert keynotes, panels and breakout sessions designed to help the healthcare industry uncover the changes they must make to conquer healthcare reform."
Sessions will cover how to:
Identify relevant high-risk populations and analyze care outcomes
Develop successful long-term strategies for efficiently improving outcomes
Use data to understand emerging trends and tackle challenges
Motivate patients in vulnerable populations to take charge of their health
Streamline care processes and manage costs
Visit our event website for more information or register here.
About HIMSS
HIMSS is a global voice, advisor, convener, and thought leader of health transformation through the best use of IT with a unique breadth and depth of expertise and capabilities to improve the quality, safety, and cost-effectiveness of health and healthcare. Through its network of over 1 million professionals, including 64,000-plus members, HIMSS advises leaders, stakeholders and influencers globally on IT best practices to ensure decision-makers have the right information at the right time to make the right decisions. HIMSS North America, HIMSS Analytics, Personal Connected Health Alliance, HIMSS Media and HIMSS International (HIMSS Europe, HIMSS Asia and HIMSS Middle East) are the five business units of HIMSS. A not-for-profit headquartered in Chicago, Illinois, HIMSS has additional offices in North America, Europe, United Kingdom, and Asia.
About HIMSS Media
HIMSS Media is the fastest growing B2B media group focused exclusively on health and technology markets. Through its suite of market-leading brands, such as Healthcare IT News, Healthcare Finance and MobiHealthNews, HIMSS Media delivers news, analysis, and must-have information to an audience of senior healthcare and technology influencers. HIMSS Media is also the leading producer of important live events, including Big Data and Healthcare Analytics Forum; Cloud Computing Forum; Digital and Personal Connected Health; Precision Medicine Summit; Privacy & Security Forum; Pop Health Forum; Revenue Cycle Solutions Summit.