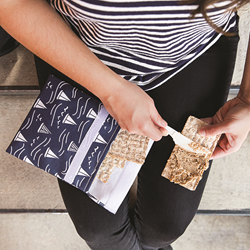 We are proud to be expanding our award-winning Lunchskins family to include even more stylish prints and colors that we believe will appeal to anyone looking to adopt more sustainable everyday food storage solutions. -- Kirsten Quigley, CEO and Founder
Bethesda, MD (PRWEB) February 07, 2017
In anticipation of Earth Day and spring trends, 3greenmoms, leaders in eco friendly food storage, will be releasing a new 2017 line of LunchSkins reusable bags this March.
"We are proud to be expanding our award-winning Lunchskins family to include even more stylish prints and colors that we believe will appeal to anyone looking to adopt more sustainable everyday food storage solutions," says 3greenmoms CEO and Founder Kirsten Quigley, who started the company back in 2008 by creating the first dishwasher-safe, food-safe reusable bag to consumer and critical acclaim. Since then, LunchSkins has continued to drive innovation — both in style and function — in the sustainable food storage market, garnering national media attention from Oprah, InStyle, Real Simple, the Katie Couric Show, and more.
When asked about the appeal of LunchSkins, CEO and Founder Quigley references her personal history with sustainability. "At heart, we are a mission-driven company with a practical but stylish solution that everyone and anyone can use and love. I felt called to action when my kids came home from school one day nearly a decade ago after having learned that 20 million plastic bags are thrown away everyday in public schools alone. I was disheartened but inspired, and that's how LunchSkins came to be."
With LunchSkins, 3greenmoms seeks to alter consumer behavior by encouraging awareness, education, and environmentally conscious decision-making. According to Quigley, "one LunchSkins reusable bag replaces an average of 500 plastic bags in its lifetime." Simply put, one bag can make a difference.
Indeed, 3greenmoms and LunchSkins continue to make a difference by giving back to cause-driven organizations. Current and past partners include the Environmental Working Group, 5 Gyres, Friends of the National Zoo, the Sea Turtle Conservancy, Girls on the Run, and Healthy Child, Healthy World. 3greenmoms also works with schools to conduct educational fundraisers.
On the topic of global change, Quigley says she's sticking to her mission of providing easy, green, and stylish solutions for a world saturated with plastic — this time, with an even greater emphasis on environmentally conscious style. "For LunchSkins 2017, we wanted to go back to our roots… literally," continues Quigley. "We've chosen nature and 'outdoorsy' motifs with a whimsical but modern look like sailboats, bicycles, and bears, and we steered towards earthier tones that appeal to everyone and make a splash."
Alongside new prints and colors are new sizes and styles of LunchSkins, including a gallon-sized reusable zip bag available in two options, "green fruit" and "blue geometric." "Our LunchSkins Gallon Zip Bag is perfect for storing larger items," explains Quigley. "Produce, bulk foods from the store, toiletries for travel… really anything the regular plastic bag would hold!"
Other plans for 3greenmoms and LunchSkins in 2017 include a give-back partnership with a well-known organization dedicated to ocean health and conservation (to be announced in May 2017), a Back to School campaign, and a summer launch of what Quigley calls "an exciting new product that will make going green at home and on the go even easier every day."
The new LunchSkins by 3greenmoms 2017 line will be available at http://www.3greenmoms.com on March 1, 2017 and soon after in grocery stores and local natural food markets around the United States. For more information about LunchSkins and for updates on the 2017 line, follow @LunchSkins on Instagram, Facebook, and Pinterest; @LunchSkinsBags on Twitter; and #LunchSkins2017 everywhere.