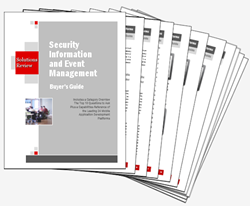 This is the perfect resource for those looking to find the right SIEM solution for their enterprise needs.
Woburn, MA (PRWEB) February 09, 2017
Today, enterprise technology news and best practices network Solutions Review has announced that the latest addition to its library of enterprise technology buyer's resources, the 2017 SIEM and Security Analytics Buyer's Guide Report is now available.
The SIEM Buyer's Guide Report provides valuable insight into the current state of the cyber security landscape and the solutions that are helping organizations combat network security issues.
For those researching SIEM as part of an active purchasing initiative, The 2017 SIEM Buyer's Guide Report offers ten questions to ask both yourself and prospective solution providers before a purchase as well as detailed profiles of the top 24 SIEM products as selected by Solutions Review. Each profile provides company and solution backgrounds, highlights solution key features and Solutions Review's take on each solution.
The top 24 SIEM solution providers listed in Solution Review's 2017 Buyers Guide for SIEM include: Acc AccelOps (Fortinet), Alert Logic, AlienVault, Assuria, BlackStratus, CorreLog, EiQ Networks, EventTracker, HP, IBM QRadar, Intel Security, LogEntries, LogPoint, LogRhythm, ManageEngine, NetGuardians, NetIQ (Micro Focus), RSA Security, BAE Systems, SolarWinds, Splunk, Sumo Logic, Tenable, and Trustwave.
"IT organizations aren't just fighting hackers and malware--they're also battling a torrent of data from their own networks," says Jeff Edwards, Solutions Review Editor and Author of the Report. "Information is pouring in. A fortune 500 enterprise's infrastructure can easily generate 10 terabytes of plain-text data per month. So how can enterprises effectively log, monitor, and correlate that data to obtain actionable insight? Enter the Security Information and Event Management (SIEM) solution."
"With this report, Solutions Review gives you a brief and comprehensive snapshot of top solutions so you can create your own shortlist of solutions that you already know have all the components you're looking for—there's nothing worse than going into a sales call with a vendor without knowing anything about what they're offering you and how it compares to the other solutions," says Edwards." If you're in the beginning process of buying your first SIEM solution, or if you're looking for something a little different than what you already have, we hope this is the perfect resource to get you started on the decision-making process."
About Solutions-Review.com
Solutions Review is a collection of online news sites bringing the latest technology news, opinions, social media, best practices and industry events together in one place for our readers. With a strong focus in the Enterprise Mobility, Big Data, Data Analysis, Identity Management, the Cloud, Data and Cyber Security, Solutions Review is managed by a team of content experts and features original content along with a thoughtful aggregation of industry best practices and solution news. Solutions Review allows seekers of technology solutions to make thoughtful and informed decisions.
Contact:
Matt Adamson
339-927-9237
madamson(at)solutions-review(dot)com