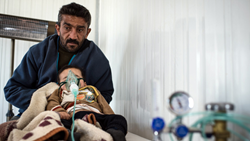 "We founded Afya because we could no longer be bystanders when we knew that getting needed medical supplies and support to areas in crisis was a practical way to help," said Danielle Butin, M.P.H., O.T. R., founder and executive director
Yonkers, NY (PRWEB) February 07, 2017
The Afya Foundation has launched a significant humanitarian relief effort to help medical professionals and aid workers in Greece and the Middle East provide care to the thousands of refugees who continue to come from Syria. Afya has collected and is shipping much-needed medical supplies, hospital equipment and humanitarian provisions to Lesvos and the Middle East throughout February/March, with plans for additional shipments in 2017.
"We founded Afya because we could no longer be bystanders when we knew that getting needed medical supplies and support to areas in crisis was a practical – and meaningful – way to help," said Danielle Butin, M.P.H., O.T. R., founder and executive director of the Afya Foundation.
"The Syrian refugee crisis, especially now, is one such crisis – and as with many of these life-altering, country-changing events, we have been able to develop a coalition of community-minded professionals, businesses and individuals to get medical providers the equipment and support they need to help their people."
If you are interested in supporting Afya's efforts, enabling medical professionals in Greece and the Middle East to care for the refugees there, go to: https://afyafoundation.org/make-a-donation/#gf_11. One 40-foot container holds enough medical supplies to provide care to thousands of refugees.
ABOUT AFYA FOUNDATION
The Afya Foundation is a non-profit organization dedicated to improving the health of individuals throughout the world who suffer needlessly due to a lack of access to basic medical supplies and equipment. Afya collects surplus medical supplies, hospital equipment and humanitarian provisions from health care facilities, businesses and private donors to support both on-going and disaster-related initiatives. Since its founding in 2008, Afya has recovered and shipped more than seven million pounds of donated supplies to more than 70 countries. The organization has been recognized by the Greater New York Hospital Association, Eli Lilly, GreatNonprofits and the United Nations. For more information on the Afya Foundation, go to http://www.afyafoundation.org.
Social Media:
https://twitter.com/AfyaFoundation
https://www.facebook.com/TheAfyaFoundation
https://www.instagram.com/afyafoundation/