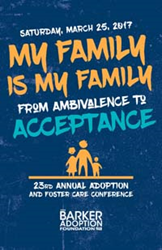 "Without Barker, we wouldn't have a family."
Rockville, MD (PRWEB) February 14, 2017
On Saturday, March 25 from 9AM-4PM, the Barker Adoption Foundation will hold its 23rd Annual Adoption and Foster Care Conference.
Held at Shady Grove Conference Center in Rockville, Maryland, The Barker Adoption Foundation Adoption and Foster Care conference will focus on topics pertaining to adoption, including: older child adoption, open adoption, transracial and transcultural adoption, and much more. Experts in the field of adoption as well as adoptive families will share experiences and information through workshops and the key-note address will be delivered by Ashley Rhodes-Courter, author of "Three Little Words" and "Three More Words."
When following the lifelong journey of adoption, often, we grow more comfortable defining our own relationships and choosing our own titles. Building meaningful relationships becomes paramount, and the importance of fitting into boxes fades. Every journey and path is different and each person must define "family" for themselves. Ambivalent feelings shift when discovering the power to choose personal definitions and relationships. Choice opens the door for acceptance and family can be defined in many different ways. Children's author Todd Parr says it best in his book titled "The Family Book." Todd writes, "There are lots of different ways to be a family. Your family is special no matter what kind it is." So simple, yet so true.
To learn more about older child adoption, visit: http://www.barkeradoptionfoundation.org/our-services/adoption-programs/project-wait-no-longer-older-child-adoption-foster-care
For more information about this conference and how to register, visit: http://www.barkeradoptionfoundation.org/special-events