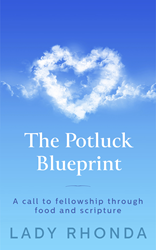 "I have loved you with an everlasting love; I have drawn you with unfailing kindness." Jeremiah 31:3
Washington, D.C. (PRWEB) February 08, 2017
Contact: Amy R Brooks at VoicePenPurpose Consulting
Email: info(at)AmyRBrooks(dot)com
Telephone: 443-858-4060
Since the death of her husband in 2012, Lady Rhonda has supported herself and young triplet daughters through her work in the US Military as a Lieutenant Colonel. Within the last year she felt called to write a book for women who want more support with their spiritual growth.
"I am an active member of my church community and I know how important spiritual support can be when you are going through challenging times. God summoned me to write this book. I didn't know how I was going to do it, but I knew I would find a way," Lady Rhonda reflects.
"I am the vine; you are the branches. If you remain in me and I in you, you will bear much fruit; apart from me you can do nothing."
John 15:5
Throughout the writing of her book, Lady Rhonda asked herself, "What does it mean to gather together in Christ's love? How do we show up as a church community outside of Sunday morning service?"
The Potluck Blueprint is a contemporary resource for Christian gatherings that will elevate the conversation and support the bonding that naturally happens when women break bread and share testimonies. The format of this divinely inspired book will encourage conversations about topics that range from career development, marriage, and childrearing, to domestic abuse, foster care, and learning disabilities. The Potluck Blueprint applies biblical teachings to real-life issues that your church family needs to discuss and heal. 
"This book is a perfect tool for women who seek a deeper spiritual connection through testimony and communing with others." 
-Dina Abercrombie, CEO & Founder, A Better Me
"From a spiritual perspective, The Potluck Blueprint seeks to satisfy the appetite of one's body, mind, and soul!"
-Rev. Kendrick Anderson
"The Potluck Blueprint is an inspired and interesting book. It's a must-read!"
-Yvonne Pugh, esq.
"This book is a perfect tool for women who want to connect their daily life experiences with their spiritual life and their relationships with others. The recipes were fun, too." –Susie Brehm, church organizer
"The Potluck Blueprint is a riveting collection of stories told by real women. You will laugh, you will cry, you will reflect, and then you will thank God for your blessings at the end of every page. This book will surely be the talk at your next family gathering."
-Roshawnda Chase, 2nd grade teacher
THE POTLUCK BLUEPRINT is currently available on Amazon and Kindle. For more information on the book, or to schedule an interview with the author, please contact: Amy R Brooks at info(at)AmyRBrooks(dot)com or 443-858-4060.
Author's Website: http://www.LadyRhonda.com