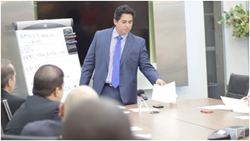 "Our main objective is the development of oil and gas projects at the ground level," says Mr. Brava.
New York, NY (PRWEB) February 10, 2017
Alternative Investments Expert Ricky Brava Announces the Drilling of More Oil and Gas Wells in The United States.
Having already successfully drilled some Oil and Gas Wells, Mr. Brava will continue to drill more and more. 
"The time to solicit, negotiate, drill, and execute is now when Oil and Gas supplies are flush, when sellers are motivated and when prices are low," explains Ricky Brava.
The way the group makes sure that they are consistently successful is by screening the industry for the best developmental prospects available with the best operators in the business.
Ricky Brava receives a steady flow of projects to review. 
"We are consistently adding more capital partners in our Oil and Gas ventures," explains Ricky Brava.  
"Our main objective is the development of oil and gas projects at the ground level," says Mr. Brava.
Forecast Highlights according to the U.S Energy Information Administration http://www.eia.gov/outlooks/steo/
U.S. crude oil production averaged an estimated 8.9 million b/d in 2016. U.S crude oil production is forecast to average 9.0 million b/d in 2017 and 9.5 million b/d in 2018.
U.S. dry natural gas production is forecast to average 73.7 billion cubic feet per day (Bcf/d) in 2017, a 1.3 Bcf/d increase from the 2016 level. This increase reverses a 2016 production decline, which was the first decline since 2005. Natural gas production in 2018 is forecast to increase by an average of 4.1 Bcf/d from the 2017 level.
Mr. Ricky Brava is also the Co-Founder of Mortgage Float. http://www.MortgageFloat.com.
He is an avid Public Speaker that speaks at national and international conferences.
Mr. Brava has received Honorable Citations from The New York State Assembly and New York City Council, as well as being recognized by New York State Senators for his leadership and service to his community.
Follow Mr. Brava on Twitter https://twitter.com/RickyBrava
Ricky Brava regularly holds educational seminars and networking meetings in his NYC office.
Author
Eric Peters
The Wall Street Publication