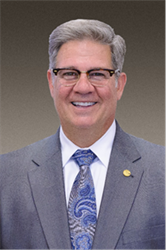 Ken Coffey, VP & Chief Development Office of Frederick Regional Health Systems
Frederick, Maryland (PRWEB) February 09, 2017
On February 21, 2017 from 8 a.m. to 10 a.m. at Maryland National Golf Club, 8836 Hollow Rd., Middletown, MD, the Association of Fundraising Professionals Western Maryland Chapter (AFPWMD) will host an educational seminar designed for fundraising professionals and board members of nonprofit organizations. The interactive seminar will focus on the balance of personality traits and expertise a development officer needs to succeed. The speakers will provide practical advice on how to work these traits in specific skill sets, techniques, and opportunities to improve. A self-assessment tool will be provided with discussion and questions to follow.
The two speakers will be Ken Coffey and Jim Lyons.
With strong Western Maryland roots and extensive fundraising experience, Ken Coffey is the Executive Director at Self Regional Healthcare Foundation in Greenwood, South Carolina. For 20 years prior to this position, he was Vice President and Chief Development Officer for Frederick Regional Health System (FMH). During his tenure, more than $68 million in charitable support was raised to help FMH meet the community's healthcare needs. Ken is a graduate of Frostburg State University.
Jim Lyons has 37 years of experience in the fundraising field and is a senior partner at Pride Philanthropy. He has taught seminars for over 400 institutions and their staff and boards. Jim has worked on an extended basis with over 150 non-profit clients. During that time, his clients have achieved over $450 million in fundraising goals. Jim is a graduate of University of Northern Colorado.
Tickets for AFP Members are $20 and $35 for Non-Members. Full breakfast is provided. For tickets and additional information, please visit the website.
About AFPWMD
The Association of Fundraising Professionals Western Maryland Chapter assists in developing skilled and prepared fundraisers to maximize benefit and philanthropic giving within the Western Maryland region. Currently, AFPWMD serves Carroll, Frederick, Washington, Montgomery, Alleghany, and Garrett County by offering personal connections, educational opportunities, and professional growth experiences. Recently AFPWMD hosted a National Philanthropy day luncheon honoring outstanding volunteers who commit themselves to raising money for fantastic causes and making substantial impact within their communities.