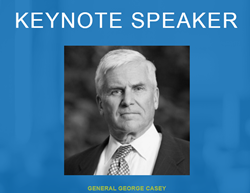 We're thrilled to have General George Casey bring his unique experience to the Colorado Venture Summit this year
(PRWEB) February 08, 2017
General George Casey will be delivering the keynote speech of the 2017 Colorado Venture Summit, event organizers have announced. General Casey is a former Chief of Staff of the Army and Commander of Multinational Forces in Iraq. He is also a Director for Patriot Boot Camp, a startup accelerator that works to equip veterans and their families with the resources they need in order to become successful entrepreneurs.
Currently a Distinguished Visiting Senior Lecturer of Leadership at the Samuel Johnson Graduate School of Management at Cornell University, General Casey will deliver a speech entitled "Leading in Our VUCA* World" (*Volatile, Uncertain, Complex and Ambiguous) to this year's attendees. General Casey is an expert authority on leadership and he will share his experiences in leading effectively today.
"We're thrilled to have General George Casey bring his unique experience to the Colorado Venture Summit this year," said Jody Shepherd, Co-Chair of the Summit and Managing Director at Service Provider Capital. "His expertise is exactly what entrepreneurs and business startups need to hear in these uncertain times in order to help them navigate towards success."
The Colorado Venture Summit will take place June 14th and 15th in Denver, Colorado at Coors Field and other locations in the downtown area. Attendance at the Main Event is capped at 140 guests to ensure attendees get maximum time with venture capitalists and can maximize on networking connections. The Main Event sells out every year, while an Evening Party hosts hundreds of tech entrepreneurs.
"Tens of millions of dollars of investments have been made in tech companies as a result of connections made at the Summit", said David Gold Co-Chair of the Summit and Managing Director at Access Venture Partners.
If you are interested in attending, you can visit the Colorado Venture Summit website at ColoradoVentureSummit.com and register your interest.
About the Colorado Venture Summit
The Colorado Venture Summit is an exclusive curated attendance event and the premier venture capital event in the Rocky Mountain region. The focus of the summit is to make connections that drive business, using round table discussions and one-on-one meetings to help venture capital investors and tech CEOs create mutually beneficial business partnerships. To learn more about the summit and apply to be a part of the exclusive Main Event, you can visit the organization's website at ColoradoVentureSummit.com.