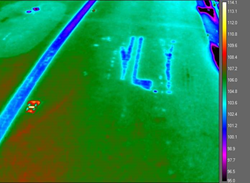 Columbus, Ohio (PRWEB) February 09, 2017
Resource International, Inc. engineers have studied InfraRed (IR) technology, road markings and the relationship between intelligent vehicles (i.e. smart cars) and road surface interaction, and discerned that visible road markings are crucial for the interaction between road infrastructure and future intelligent vehicles. Cherif Amer-Yahia, PhD, PE, Director of Non-Destructive Technologies at Rii, presented Rii's experience with this at the 2016 Ohio Transportation Engineering Conference (OTEC) in Columbus, Ohio.
The under-maintenance of roads and road markings represents a hazard for road users. It has been reported that a high number of US highway fatalities are related to poor roadway conditions. Thus, Rii technologists continue to be a part of the integration of road maintenance concepts into the development of roads that can be "read" by the design of intelligent vehicles.
Intelligent vehicles are equipped with Lane Departure Warning Systems (LDWS), Lane Keep Assistant Systems (LKA) and Traffic Sign Recognition (TSR) that alert drivers when they are passing over edge lines to keep them from drifting or colliding. These technologies require pavement markings to be sustained at a minimum standard. The absence of visible, detectable markings essentially negates the safety benefits that arise from LDWS in new vehicles.
Rii utilized high speed InfraRed technology and our unique iiCollector™ mobile web app, to establish maintenance quality standards that ensure road marking conditions remain visible at all times, regardless of light conditions, weather conditions or age. Rii's studies have indicated that IR technology is a low cost and high speed method for the condition assessment of pavement markings.
Further, road markings are one of the most cost-effective safety solutions that are available to policymakers and road owners. The European Road Federation and US Departments of Labor have placed high priority on establishing intervention and maintenance policies to guarantee that road markings always remain visible. Recognizing that road markings have an average service life of two years, technologies were developed to provide an efficient tool to monitor performance, enforce maintenance standards, and determine when markings needs to be repaired or replaced. The universal minimum standards for road markings are 150 mm line width, and their performance should not drop below 150/mcd/lux/m2 in dry weather and 35/mcd/lux/m2 in wet or rainy weather.