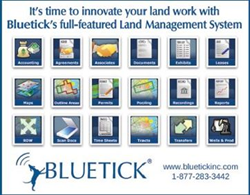 Greensboro, NC (PRWEB) February 07, 2017
Bluetick will be exhibiting at the 2017 North American Prospect Expo, scheduled for Feb. 16-18 at the George R. Brown Convention Center in Houston, Texas.
NAPE Summit 2017 is a networking event that brings together all the players necessary to forge, facilitate and close deals. In the upstream oil and gas business, it is the largest and most successful event of its kind in the world.
Bluetick Inc. Land Management System (LMS)
Bluetick's solution is proven in the oil and gas industry. They employ the most talented software developers and engineers to architect, integrate and support their dependable systems.
Bluetick's Land Management System software is an intuitive solution. It's a real-time, tract-based integrated land administration system that manages the entire life cycle of permit and lease acquisition projects, all in one web-based package. In addition, the integrated Esri ArcGIS® mapping functionality ensures that the user can easily provide detailed maps to stakeholders.
Key Benefits:

Reduce project time and cost
Manage all land personnel, from contractors to in-house lease analysts
Automate land functions and reduce the need for paper files
Streamline and simplify the land and lease management process
Create reports and update maps with real-time information
Eliminate IT infrastructure investment with a hosted solution
Improve data accuracy and eliminate redundant data entry
Access data 24/7
About the Company:
Bluetick Inc. provides remote monitoring and control automation solutions to the midstream and upstream oil and gas marketplace. Bluetick's Remote Monitoring and Control (RMC) system solutions helps operators optimize oil and gas production, enhance environmental compliance and safety, and increase workforce performance. Bluetick's Land Management System (LMS) software automates the entire lifecycle of permit, lease, and ROW acquisition projects, including land records administration and complete GIS mapping interface. For more information please visit our website http://www.bluetickinc.com.