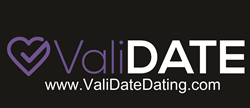 FORT LAUDERDALE, FL (PRWEB) February 08, 2017
South Florida's favorite online dating site is going national.
ValiDATE Dating is relaunching its website — validatedating.com — on a nationwide platform, and thanks to input from its current clients, it is now able to provide safe and secure dating matches via a new and improved, more user-friendly patented process.
The brainchild of three South Florida entrepreneurs, ValiDATE was founded to help combat the horrors and pitfalls of finding love on the internet. The chief problem: People lie and deceive. In fact, a study led by researchers at the University of Wisconsin-Madison found that roughly 81 percent of people misrepresent basic physical characteristics, such as height, weight and age, when completing their online dating profiles. In general, the lies were focused on what people thought their potential partners would find attractive.
Two years ago, ValiDATE's founders combined their nearly 55 years in military, law enforcement and private investigative backgrounds to create an online dating website where truth reins. Members are fully vetted before their profile can be seen, even conducting live interviews if inconsistencies are found during the background check. This ensures all users have clean backgrounds and records. The site's initial launch was a limited to South Florida, where it quickly gained popularity.
Even so, ValiDATE's ownership continued to tweak the software and redevelop the system to make the vetting process less invasive while continuing to guarantee a safe and secure virtual meeting place for singles. They shortened the sign-up process, as well as the number of steps and screens in the process, while still retaining the most important elements of the match process.
"We don't check credit, so it doesn't show up on a credit report," explains Bob Birdsong, director of ValiDATE.  "The key is that we do not retain their background information, so we are hack-proof.  Also, no person ever has access to personal background information; it is all automated."
Memberships with the upgraded system still are all-inclusive, and there are no secret add-ons or automatic renewals. Confidential member background information is never shared and is disposed of immediately upon verification.
All a person has to do is create a profile, agree to privacy terms and conditions, authorize the background check and pay an initial sign-up fee that covers the screening and first three months of service. Once the background check and verification are satisfactorily completed, each user is welcomed via email.
Because of a National launch promotion, ValiDATE is currently offering the initial three month membership and background check absolutely free of charge.
For more information, visit http://www.validatedating.com. Media inquiries should be directed to Tricia Lowery with Noble Communications at 407-921-7322.
About ValiDATE Dating
ValiDATE Dating screens for criminal, fraudulent and inaccurate information in its potential members' profiles to bring a stronger level of honesty and trust to the online dating community. Offering everything from identity verification and background checks to age verification and digital footprint verification, ValiDATE Dating goes above and beyond its competitors to protect its users. Visit http://www.validatedating.com, and experience the difference for yourself.