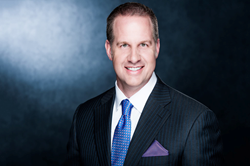 El Paso, TX, February 7th, 2017 (PRWEB) February 08, 2017
Brian Metzger, a Partner at New York Life's El Paso, TX General Office has received the Partner of the Year award for his fourth consecutive year. In addition to earning this prestigious award for his ability to manage and develop his team of financial professionals, he achieved status as a General Securities Principal by completing the U.S. Financial Industry Regulatory Authority's rigorous Series 24 exam.
This is the fourth consecutive year that Metzger has achieved Partner of the Year at the New York Life El Paso General Office. "We are thrilled at Brian's continued success and perseverance in developing a team of financial professionals who work to protect the financial well being of families in the El Paso and Las Cruces communities," said Steve Nagy, Managing Partner. "Brian has demonstrated year after year commitment to excellence and growth."
The Series 24 exam qualifies a registered individual to supervise or manage branch activities such as corporate securities, REITs, variable contracts, and venture capital; a general principal may also approve advertising and sales literature, including communications regarding municipal securities. The exam covers topics such as supervision of investment banking, trading, customer accounts, and the primary/secondary markets.
Mr.  Metzger has been with New York Life since 2008, and is associated with New York Life's El Paso General Office in El Paso, TX. Mr. Metzger has lived in El Paso, TX for over 12 years and is proud to call El Paso home. He is happily married to his wife of 17 years Elizabeth Dipp Metzger, and together they have 3 children.
New York Life Insurance Company:
A Fortune 100 company founded in 1845, is the largest mutual life insurance company in the United States* and one of the largest life insurers in the world. New York Life has the highest possible financial strength ratings currently awarded to any life insurer from all four of the major credit rating agencies: A.M. Best (A++), Fitch (AAA), Moody's Investors Service (Aaa), Standard & Poor's (AA+).** Headquartered in New York City, New York Life's family of companies offers life insurance, retirement income, investments and long-term care insurance. New York Life Investments*** provides institutional asset management. Other New York Life affiliates provide an array of securities products and services, as well as retail mutual funds.
Please visit New York Life's website at http://www.newyorklife.com for more information for more information.
*Based on revenue as reported by "Fortune 500 ranked within Industries, Insurance: Life, Health (Mutual)," Fortune magazine, 6/17/16. For methodology, please see Fortune 500 
** Individual independent rating agency commentary as of 8/9/16.
*** New York Life Investments is a service mark used by New York Life Investment Management Holdings LLC and its subsidiary, New York Life Investment Management LLC.