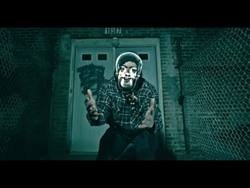 New York, NY (PRWEB) March 03, 2017
Clark Franklin is an aspiring artist from Upstate New York who wants to leave his mark on 2017. Franklin starts the year off with the release of his latest music video, "Filthy". The video is currently online and can be viewed in its entirety on the Coast 2 Coast Mixtapes website. His ultimate goal is to put himself in position to change his life and the lives of those around him such as his father and brothers as well as his wife and two children.
The video for "Filthy" features scenes of Franklin working out in a park in the early evening. The idea is that he is training and preparing himself for his future, building his strength so he'll be prepared for whatever life throws at him. The video also features scenes of Franklin in front of an old abandon church, which shows the dichotomy between the visuals of an eternal paradise described in church services and the dark, almost gothic reality of life represented by the aging, deteriorating stone edifice which was once consider a "house of God". Franklin says the song itself focuses on the struggles and pressures one faces in their surrounding environment and using them to motivate oneself to get out of their situation and inspire them to focus their passion into something beneficial for themselves and those around them. In the scene at the basketball courts, Franklin's attire contrasts that of those surrounding him, which is meant to symbolize that the environment doesn't always shape the individual, but rather the individual can shape their environment.
About Coast 2 Coast Mixtapes:
Coast 2 Coast Mixtapes are the most widely distributed mixtapes in the world, with over 100 million downloads/plays generated by over 300 volumes officially hosted by major artists. Coast 2 Coast has a solid reach in the new music industry with a digital magazine, DJ coalition, industry tips blog, yearly convention, and more. Coast 2 Coast Mixtapes represents a unique opportunity for artists of all urban genres, from major to indie.
For more information, visit http://www.coast2coastmixtapes.com