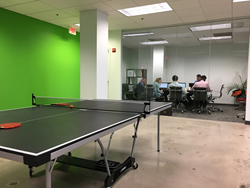 The area is rich with diverse talent from prestigious colleges, and is a hotbed for technology firms. We see the expansion of our sales, marketing, and development teams in Atlanta as a key factor in driving FieldEdge's fast-paced growth
ATLANTA, GA (PRWEB) February 09, 2017
FieldEdge, the leading provider of field management software solutions for home service contractors, opens a new office in the heart of Buckhead to facilitate rapid growth and leverage the community's diverse technology talent pool.
The new office space supports the company's ambitious growth strategy and will be an extension of its corporate headquarters in Fort Myers, FL. Over the past 18 months, FieldEdge has increased employee headcount by 220% and will continue this pace of hiring in Atlanta with a focus on front-line sales and software engineering roles.
The newly built, open-concept Buckhead office promotes a high-energy environment. FieldEdge has intentionally drawn on the example of Google in shaping its internal culture, apparent in its approach to office design, free drinks and snacks, ping pong table and employee-focused events.
"The decision to expand our presence into the Buckhead area was a logical evolution in our business growth strategy," said Cassie Fields, Director of Inside Sales. "The area is rich with diverse talent from prestigious colleges, and is a hotbed for technology firms. We see the expansion of our sales, marketing, and development teams in Atlanta as a key factor in driving FieldEdge's fast-paced growth."
About FieldEdge | dESCO
FieldEdge is the leading developer of innovative service management software for the service industry. With offices in Fort Myers and Tampa, Florida, FieldEdge serves more than 30 service verticals, both nationally and internationally. FieldEdge's flagship products, FieldEdge and Electronic Service Control (ESC), are comprehensive service management solutions that enable home service contractor companies to easily manage customers, work, and finances. FieldEdge and ESC provide the tools and features growing and profitable service companies need for success. For more information, visit http://www.fieldedge.com or contact us at 941-208-0130