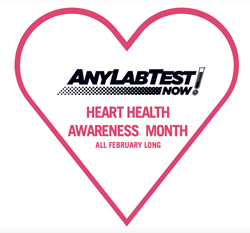 Both my parents have heart disease, so this promotion is dear to me.
Frisco, TX (PRWEB) February 09, 2017
The new year always comes with resolutions for more exercise and eating healthier, but as January gives way to February, many of those resolutions begin to wane. Perhaps that's why February has been designated Heart Health Awareness Month – to help transfer those healthy resolutions into long-term habits. In addition to exercise and healthy eating, for heart health it's important for people to know their cholesterol level. That's why Any Lab Test Now of Frisco and Plano is celebrating Heart Health Awareness Month by offering a basic lipid panel for half price during the month of February.
This is the second year in a row the direct access lab has offered this price reduction. "Last year we were able to help so many people check their cholesterol," said owner Joseph Johnson. "Heart disease is the number one cause of death in the world. We want to see our clients take control of their health, beginning with knowing their cholesterol numbers."
The basic lipid panel, which tells clients their total cholesterol, HDL cholesterol, LDL cholesterol, and triglycerides, can be used as an indicator to determine a person's risk of heart disease. Normally costing $98, during the month of February it's only $49. "Just knowing where you stand on your cholesterol numbers is a great first step to taking control of your health," said Johnson. "Both my parents have heart disease, so this promotion is dear to me."
Any Lab Test Now allows customers to take control over more than just there cholesterol. As a direct access lab, it offers fast results and low prices on thousands of medical lab tests as well as DNA tests, paternity tests, toxicology tests, anonymous STD tests, vitamin B12 shots, and more. With no doctor's order, insurance, or appointment needed, Any Lab Test Now makes it easy for anyone to take the first step towards a healthier heart.
About Any Lab Test Now
Any Lab Test Now of Frisco and Plano is a lab testing company that provides direct access to its customers. Results are quick and easy to receive with text message notification and the opportunity to download, fax, or email test results.