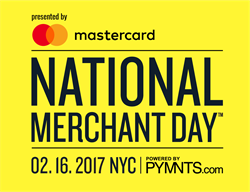 The partnership for National Merchant Day is a natural fit, and The Gift Card Network is thrilled to participate in this inaugural event.
Vancouver, WA (PRWEB) February 08, 2017
As part of a 2017 initiative to connect with other payments industry organizations and bring member benefits, The Gift Card Network has partnered with PYMNTS.com as a sponsor for a brand new event, National Merchant Day. Premiering on February 16, 2017 in New York City, New York, NMD is a one day event that allows merchants and solution providers to connect through brief 15-minute speaker sessions and an interactive beta exchange. In this innovative, solutions oriented networking approach, attendees will get a glimpse of the upcoming trends in consumer shopping experiences.
"Through this partnership with PYMNTS.com for National Merchant Day, we are able to provide the gift card point of view to event participants while offering our merchant members a very special promotional offer for registration, providing them with additional access to educational content and networking opportunities." said Desiree Wiercyski, GCN Marketing & Communications Manager.
Some of the Gift Card Network's team members will attend the NMD event and provide special offers only for NMD attendees. Through this partnership, GCN will help educate new companies about gift card and branded currency trends and technology through exhibiting, distributing GCN publications, and by contributing to an upcoming PYMNTS.com educational publication.
"We're excited to be present at this event to further support our members and the gift card industry, as well as provide our members a new and unique opportunity to connect with the broader payments industry." Wiercyski said.
About the Gift Card Network:
The Gift Card Network is the home of everything gift card, the only gift card focused media and collaboration network in the world, and a unique organization where Gift Card Geeks can grow and network. Members gain a large number of benefits, such as presence in GCN's various publications, access to educational content, collaborative, and networking events. Any company can join the Gift Card Network to learn about gift cards and interact with other members to help form the future of the gift card industry. Find out more at http://www.thegiftcardnetwork.com
About PYMNTS:
PYMNTS.com is reinventing the way that companies share relevant information about the initiatives that shape the future of payments and commerce and makes news. This powerful B2B platform is the #1 site for the payments industry by traffic and the premier source of information about "What's Next" in payments and commerce. C-suite executives, company founders, and investors turn to it daily for these insights, making the PYMNTS.com audience the most valuable in the industry. It provides an interactive platform for companies to demonstrate thought leadership, popularize products and, most importantly, capture the mindshare of global decision-makers. It's where the best minds and best content meet on the web. Innovations in payments and commerce have become highly intertwined. PYMNTS covers every aspect from retail reinvention to the Internet of Things.
http://www.nationalmerchantday.com