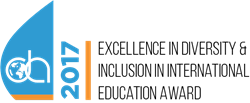 BERKELEY, CA (PRWEB) March 02, 2017
Diversity Abroad is pleased to announce the recipients of the 2017 Excellence in Diversity & Inclusion in International Education (EDIIE) and Global Student Leadership Awards. This year's recipients have demonstrated a commitment to advancing diversity and inclusive excellence within international education on an individual, institutional, and organizational level, as well as students who represent Diversity Abroad's mission to diversify global education.
The awards will be presented at the 5th Annual Diversity Abroad Conference, Embracing the Future of Global Education, in Minneapolis, Minnesota on March 22, 2017.
INSTITUTIONAL AWARD: UNIVERSITY OF SOUTH FLORIDA
The University of South Florida has generated an impressive 43% increase in study abroad participation in the past three years. It has achieved laudable gains enfranchising underrepresented students in education abroad through strategic partnerships and innovative programming, including the 2016 Diversity Series: "Black & Abroad" with the Office of Multicultural Affairs, Department of Africana Studies, and the Institute for the Study of Latin America and the Caribbean; "Beyond Just an Amazing Experience: Translating Study Abroad into Workforce Readiness" with USF Career Services; and "Don't Let Emotional Baggage Weigh You Down" with the Mental Health Management Office and with the Honors College and College of Behavioral Sciences.
"This recognition reinforces and invigorates our commitment to a collaborative and holistic approach to diversity in international education. USF students have embraced our efforts to become more diverse and inclusive abroad, and they continually inspire our work on a daily basis. We are strengthened by diversity as an institution and are proud to partner with the Diversity Abroad Network. The resources and guidance offered by the Network and its members have provided us with confidence to tackle such difficult challenges in our field" said Amanda C. Maurer, Director, Education Abroad.
Honorable Mention: University of Pittsburgh, Vira I. Heinz Program for Women in Global Leadership, University Center for International Studies.
ORGANIZATIONAL AWARD: FOUNDATION FOR INTERNATIONAL EDUCATION
FIE is a London-based, non-profit educational organization, providing programs in partnership with approximately 50 universities. FIE has established the Diversity and Inclusivity Scholarship Route which resulted in dialogue groups on national identity, social justice, and social inequality, a film project on multiculturalism and multi-religious identity, and FIE's first student blogger.
"We are honored to receive this award. It will no doubt serve to inspire us to further our journey towards creating the best, most supporting environment for all students on our programs. By seeking out and helping to develop the contributions of diverse students within the study abroad environment, a tremendous depth is added to the learning, living and working experiences for everyone in the FIE community," said Dr. Julie Andreshak-Behrman, Chief Academic Officer.
INDIVIDUAL AWARD: IRENE S. SCOTT, TEXAS A&M UNIVERSITY
Irene Scott, Program Coordinator, created the Diversity Committee which enabled the Study Abroad Programs Office to centralize staff members' efforts around diversity and inclusion, created online resources for increased accessibility, established guidelines for advising underserved students, and developed assessments to inform internal decision-making around diversity and inclusion.
"Irene's commitment to ensuring that all Texas A&M University students have access to transformational, international experiences has been a true asset and inspiration to everyone in the Study Abroad Programs Office. We are very proud of her and are so pleased she received this well deserved recognition," stated Dr. Jane Flaherty, Director, Study Abroad Programs Office.
GLOBAL STUDENT LEADERSHIP AWARD: DEVIN WALKER, GRADUATE STUDENT, UNIVERSITY OF TEXAS AT AUSTIN
Devin Walker founded the Diversity Abroad Showcase as an annual event at which 175 study abroad alumni present their narratives about learning abroad to prospective study abroad students. He also created, facilitated and helped to institutionalize a series of study abroad writing workshops designed to support diverse students with their essays and the application process. Devin's dissertation will explore the impact of study abroad programs on student athletes.
"Devin has completely transformed the face of study abroad at the institution," said Dr. Charles Lu, Executive Director and Clinical Assistant Professor in the Division of Diversity and Community Engagement.
GLOBAL STUDENT LEADERSHIP AWARD: HUNTER ZHAO, UNDERGRADUATE STUDENT, UNIVERSITY OF MICHIGAN
Hunter Zhao is a junior honors student and a peer advisor at the Center for Global and Intercultural Study. Hunter is presently serving as a site leader for Michigan Active Citizens: Alternative Spring Break Program on immigration and refugee rights and is leading initiatives to advocate for and support first-generation college students and undocumented students.
"Hunter has an exceptional work ethic, perseverance, and ambition to implement ideas and actions that embody diversity and inclusion," said Ebony Ellis, Senior Intercultural Programs Advisor, Center for Global Intercultural Study.
Full details about each recipient are available at http://www.diversitynetwork.org.
ABOUT DIVERSITY ABROAD
The Diversity Abroad Network is the leading professional consortium of educational institutions, government agencies, for-profit and non-profit organizations dedicated to advancing diversity and inclusive good practices that increase access, achieve equitable diversity and foster inclusive excellence in global education. Diversity Network members support the important work that the Diversity Network engages in to advance research, develop effective advising tools, and offer learning and development opportunities essential to creating equitable access to global education.