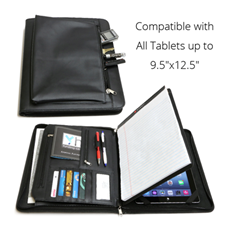 If you are want to make an iPad part of your business routine, but also want to be able to carry papers with you, the Business Leather Portfolio from Sunrise Hitek should meet your needs
Chicago, IL (PRWEB) February 09, 2017
Sunrise Hitek's Business Leather Portfolio was reviewed by iPhone Life Magazine writer Todd Bernhard http://www.iphonelife.com/content/review-leather-portfolio-integrates-ipad-business-tech-era. The article discusses the versatility of this product especially for business professionals. He points out the high quality of the product and the reasonable price tag. The "final verdict" was: :If you are want to make an iPad part of your business routine, but also want to be able to carry papers with you, the Business Leather Portfolio from Sunrise Hitek should meet your needs".
The Business Tablet Portfolio offers excellent protection for your tablet computer, plus ample storage for business professionals on the go. It features our unique Universal Corners which adjust to perfectly fit any size tablet. The case itself is made of high-grade leatherette, offering tough protection for day to day use. An exterior zipper pouch provides easy access for bulky items such as keys and calculators, while the expandable file folder offers plenty of storage for documents, brochures, and catalogs. A micro-fiber divider is sized perfectly for a 8.5"x11" notepad, protects the tablet's screen from scratches.
The 2016 model of the Business Leather Portfolio features a built-in easel-stand which allows easy demonstrations with a tablet, keeping the hands free and also maintaining a polished look https://www.sunrisehitek.com/product/ipad-business-leather-portfolio. The 2016 model also has elastic corners to keep the tablet in place when in or out of use.
This tablet is universally compatible with all tablets up to 12.9" screen, including iPad Pro, iPad 2/3/4, Air, Air 2, Mini, Mini 2, Mini 3, all Samsung Galaxy tablets from 7" to 12.2", all Microsoft Surface tablets including Pro 3/4, and all other tablets on the market with a physical dimension of up to 9.5"x12.5". Sunrise also offers volume discounts. Check their website or email for a custom quote https://www.sunrisehitek.com/product/ipad-business-leather-portfolio.
About Sunrise Hitek
Sunrise Hitek's "Hitek" store, is a leading maker of protective gear for Apple's iPad. The brand changed to üuber when the company starting developing cases for other devices, such as the MacBook, Chromebook, and Samsung devices. Sunrise Hitek Group, LLC, owner of the üuber brand, also operates Sunrise Digital, a leading digital printing company based in Chicago. As a G7 Qualified Master Printer, Sunrise is uniquely qualified among protective gear makers to offer a wide array of customization options, ensuring the most consistent and accurate color reproduction. Sunrise is an Inc. 5000 company established in 1988 and employs the most advanced equipment and technology, such as G7-certified HP Indigo and UV flatbed presses, and digital die-cutting, to create best-in-class products. A privately-owned enterprise, the company is based in Chicago and sells products worldwide.