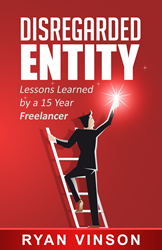 Being a freelancer can seem daunting at times. You get to be your own boss, but much of the responsibilities fall solely on your shoulders. This can be difficult for beginners to navigate without any prior experience.
Los Angeles, CA (PRWEB) February 09, 2017
Drawing inspiration from his fifteen years working as an online entrepreneur and consultant, Ryan Vinson shares some of the knowledge he has gleaned from making a living as a freelancer in his candid and insightful new book, "Disregarded Entity: Lessons Learned by a 15 Year Freelancer".
Ryan worked for various companies around the United States as a software developer in the late 1990s, and it was his foresight and business acumen that lead to his realization that freelance work would be the way of the future; the internet bubble was bursting.
People were losing jobs in their droves, and Ryan Vinson realized that an office job was not a sustainable way to continue earning a living—he had to try something new.
Through no small amount of hard work and dedication, Ryan built up his own freelance consulting business from scratch. He found clients who were willing to pay what his services were worth, which is something that many freelancers struggle with.
Quite apart from his consultancy work, Ryan is also the founder of the popular VersusMedia platform, which connects independent filmmakers with talented musicians.
VersusMedia has been hailed by filmmakers and musicians alike for providing an unparalleled networking opportunity, and it has grown into an even larger entity with the recent launch of a new website - FilmMusicAgent - which is available in seven languages.
The book represents a collection of the most important lessons Ryan learned from working as a freelancer and building a successful media company from the ground up.
The ever-expanding nature of internet entrepreneurship means that more people than ever before are trying to carve out a living as freelancers; either by finding their own set of clients to provide writing, software development, and other services to, or by building an online business themselves.
Ryan has succeeded in both of these areas, and his story is delivered in a frank, humorous, and engaging manner that teaches aspiring freelancers many valuable tricks to help them achieve success in their chosen paths.
It is notoriously difficult to gain traction as a freelancer, especially with increased competition due to the globalization of the workforce. People are willing to work for very low rates that are difficult to compete with if you don't have the right knowledge and mindset.
In many ways, Ryan Vinson can be seen as a pioneer of the whole digital nomad concept which is now sweeping across the United States and beyond. "Disregarded Entity" acts as a veritable blueprint for navigating the complex and rewarding career path that is freelancing.
The lessons Ryan learned and has openly shared from fifteen years of freelancing work can serve as a valuable tool for anyone who wants to get away from the corporate slog and work from home, or wherever else in the world they choose.
You can purchase "Disregarded Entity: Lessons Learned by a 15 Year Freelancer" on Amazon now.