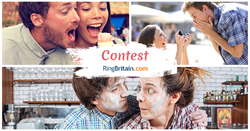 Atlanta, Georgia (PRWEB) February 08, 2017
"Love is in the air, everywhere I look around", the song says. But what happens when distance separates people from their loved ones? The answer provided by RingBritain.com is simple: they call each other. Reaching this conclusion, RingBritain.com also launched a special offer, which helps British expats call more their loves ones back home in the United Kingdom: 10% bonus for Voice Credit orders of min. $10. All customers have to do is place an order using coupon code H3ART, starting February 9 until February 11.
Besides the bonus, they can also win $10 free Voice Credit if they enter RingBritain.com's Facebook contest and share a funny dating story. The contest is open starting February 9 until February 13 and the prize will be awarded based on a random mechanism on February 14.
RingBritain.com offers a variety of calling options. Calls can be placed from:

any phone, through access numbers,
any computer, through the Web Call application, or
any smartphone, as RingBritain.com offers a free app, for both iOS and Android devices, called KeepCalling.
In addition to Voice Credit, RingBritain.com also offers Virtual Numbers that work as monthly subscriptions through which customers pay a low monthly fee and receive unlimited calls from another country. The people calling the Virtual Number only pay the rate of a local call.
Customers are happy both with the quality and with the prices offered by RingBritain.com. On Trustpilot, a review site, RingBritain.com has an excellent 9.2 rating. One customer writes, 'Using Ring Britain has made it very easy and very cheap to ring family in England, from Australia. I can call from my mobile direct to their landline or mobile and talk until we run out of stuff to say! Without keeping an eye on the cost. I'd say I ring uk at least twice a week, usually for about an hour at a time. The call quality is generally "excellent", and never worse than "very good"- I thoroughly recommend using Ring Britain.'
All RingBritain.com promotions and offers can be found on their Facebook page: Facebook.com/RingBritain.
About RingBritain.com
RingBritain.com is an interactive website designed by KeepCalling, a global telecommunications company registered in 2002 in USA. Presently, KeepCalling provides its services to hundreds of thousands of consumers and businesses worldwide, with a focus on customer satisfaction. KeepCalling has been listed by Inc 5000 as one of the fastest growing companies in the USA for 5 consecutive years. In 2015 the company registered a revenue increase of over 200% from 2011 to 2014.