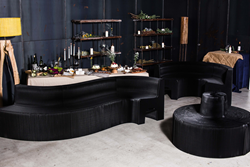 Tailor-made for VIPs ,providing premium events and spaces a seating solution unlike anything before
Taipei, Taiwan (PRWEB) February 10, 2017
Creative furniture brand FlexibleLove is set to launch a new model LAVA. The new model, coming after the-classic SANDSTONE, and design favourite MARBLE, features the same patented honeycomb structure known for incredible durability and recyclability. With its sleek and masculine look however, LAVA takes aim at providing premium events and spaces a seating solution unlike anything before.
LAVA, as the name suggests, gives away what FlexibleLove believes that makes the chair one-of-a-kind in today's designer furniture market - it is more than just the beautiful black, it is much more than a static seating that does not reflect the growing need for flexibility. LAVA is fluid and powerful as it adapts to different terrains that are today's premium spaces.
For FlexibleLove, LAVA is a new milestone on their journey to serve communities around the world in their public and private seating needs. Actively involved with creatives and diverse communities, the space saving guru is also exciting to start a series of collaboration with opinion leaders of Designers, Artists and Deco Stylists.
For more information, please contact
Pixie Goh | Brand Manager
Tel +886 2 2721 6225
Mo +886 980 354 217
email pixie(at)flexiblelove(dot)com
http://www.flexiblelove.com