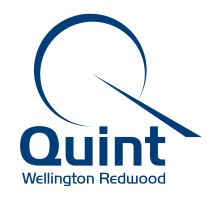 Consulting in a Box builds a bridge between training and implementation. Learning does not stop once a certificate is awarded
Philadelphia, PA (PRWEB) February 10, 2017
Consulting in a Box builds a bridge between training and implementation. Learning does not stop once a certificate is awarded. IT professionals often follow a training course to set a change in motion in their work or within their department. However, after obtaining a certificate, the acquired knowledge often fades away quickly and back on the job, the situation soon returns to business as usual. Consulting in a Box allows learning to continue even after a certificate has been attained. Quint's extensive experience in IT consultancy has been converted into a set of assessments and self-assessments which allow users to gain insight into the situation within their organization, and giving hands-on action plans and advice, through which improvement pathways are proposed. Everything is based on daily practice. The assessments relate to IT Service Management, Lean IT, Agile and IT Governance and can also be used to measure personal – and team – effectiveness.
The results of the assessments can be used immediately to set changes in motion within an organization. Users have direct access to a knowledge library of best and next practices and IT standards that provide solution-focused support derived from the answers given in the assessments. Being part of an online community means that participants (and former participants) can collaborate with one another, gain inspiration and ask each other questions. If so desired, an external coach can be called upon. All of this ensures that the value of following training is raised, not only for the professional involved but definitely for the employer too.
For Frank Frambach, Quint Solutions manager, the launch of Consulting in a Box is also a personal triumph. "I had the idea in my mind for quite some time. Although most of the basic ingredients of Consulting in a Box, like the assessments, were already available at Quint, a large proportion of the knowledge was inside the heads of consultants. By making this knowledge accessible we have created a bridge between the world of theoretical training and the reality of day-to-day business. You could compare it to driving a car: passing your driving test does not mean that you're immediately capable of driving smoothly. With Consulting in a Box, you start building up real 'driving hours' after you obtain the certificate." Consulting in a Box will be available through Quint's partner network of training providers.
If you are an IT training provider and interested to differentiate from the competition and deliver more value to your clients, please join the live demo webinar on February 16th. Save your seat using this link.