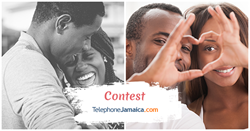 One of the best international phone company around. I have been with this company for several years. (Phillipa on Trustpilot.com)
Atlanta, Georgia (PRWEB) February 08, 2017
TelephoneJamaica.com, the platform dedicated to the Jamaican diaspora worldwide, offers 10% Voice Credit bonus for international calls to Jamaica with coupon code H3ART on any purchase of $10 minimum placed on the website until February 11, 2017. The promotion starts on February 9, at the same time with a Valentine's Day Facebook contest on TelephoneJamaica.com Facebook page. The contest is giving away $10 Voice Credit for the winner of the fun contest running on TelephoneJamaica.com community page: https://www.facebook.com/telephonejamaica/.
The 10% calling bonus for Jamaicans is available for grab between February 9-11, 2017 on TelephoneJamaica.com. The bonus applies when using coupon code H3ART on any Voice Credit purchase of minimum $10 on the above mentioned website dedicated to Jamaican expats worldwide. The Bonus credit as well as the basic amount never expire, so it can be used to call Jamaica or other destinations any time necessary, at the rates displayed on the website: https://telephonejamaica.com/
The 10% bonus helps Jamaicans who need calling balance to call Jamaica or elsewhere to save big money. The minimum $10 purchase already brings one up to 67 international calling minutes to Jamaica, no matter where one lives. And now, 10% extra Voice Credit comes as a gift.
Jamaicans on Facebook have a second surprise from TelephoneJamaica.com. The fun contest on TelephoneJamaica.com community page gives away a $10 Voice Credit prize, that is 65 minutes to call landlines in Jamaica or 50 minutes to call mobiles, or a mix of the two. It starts on February 9, 2017, and the winner will be randomly picked on February 14 from those who left a funny brief comment until February 13. The fans and visitors are challenged to share a funny dating story in a short a comment: https://www.facebook.com/telephonejamaica/
The 10% Voice Credit Bonus, as well as the Valentine's Day Facebook giveaway can be used to make international calls to Jamaica and elsewhere in 3 different ways, which makes the service one of the most flexible on the global market:
-Using access numbers from any personal phone, while no 3G, 4G or WiFi connection is needed
-Using KeepCalling app for iOS and Android devices
-Using Web Call desktop app to make calls from PC to any landlines or mobiles in the world; the app is available in one's TelephoneJamaica.com account and requires no download.
Besides the Voice Credit service for international calls, TelephoneJamaica.com help Jamaicans send mobile credit to their friends and relatives back home in Jamaica via the service called Mobile Recharge. As any process on the website, sending a top up online to someone in Jamaica takes less than 1 minute. The operators in Jamaica that welcome mobile credit from abroad for their subscribers are: Digicel and Lime/Flow.
No contract is needed on TelephoneJamaica.com to open a free account that already comes with a set of free features, besides calling credit and long-distance mobile top up to Jamaica:
-Speed Dial and PINless dialing makes international calls resemble local calls in terms of dialing experience.
-Thank You points are offered on every purchase as a loyalty reward. They can be later converted into Voice Credit for free calls.
-Lowest rates on the market for calls to both mobiles and landlines.
-KeepCalling app costs zero to install on any Android device, iPhone, iPad or iPod Touch.
-24/7 human Customer Support for any explanation or question.
-Online Help Center with Frequently Asked Questions.
-Online 30 day call history and account transactions available non-stop.
-Calling is also possible using access numbers that require no Internet connection.
-More than 1 expat service available in one's account.
-International Mobile Recharges are instant and easy.
-PayPal is accepted besides all major credit and debit cards.
-Payment is accepted in any currency.
-Transactions are 100% secure. The service is "Verified & Certified"
-Anyone can earn credit while recommending the service to other fellow expats.
TelephoneJamaica.com is a mobile-friendly website dedicated to the Jamaican diaspora in the USA, Canada, Australia, Asia and Europe. The service is a brand of KeepCalling, a global telecommunications company registered in 2002 in USA. Presently, KeepCalling provides its services to hundreds of thousands of consumers and businesses, with a focus on customer satisfaction. KeepCalling was listed by Inc 5000 as one of the fastest growing companies in the USA for 5 consecutive years.