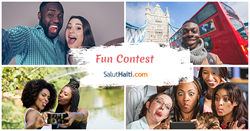 Secure and trustworthy. I love the ease and security... (Roberta LaCorte on Trustpilot.com)
Atlanta, Georgia (PRWEB) February 08, 2017
SalutHaiti.com, the platform serving the Haitian diaspora worldwide for more than 10 years, offers 3 ways to gain calling credit for international calls to Haiti or mobile credit for friends and relatives in Haiti. Between February 9-13, 2017, anyone who buys at least $10 on SalutHaiti.com using the coupon code H3ART gets 10% Bonus Voice Credit for free calls abroad. At the same time, a Valentine's Day contest running on the Facebook page I <3 Haiti announces a fun marathon of stories and a $10 giveaway on February 14, 2017. Also, those interested to support relatives in Haiti with mobile credit can take advantage of the current offer that adds Natcom Bonus on any international mobile top up of minimum $9, sent to Haiti: https://saluthaiti.com/buy/mobile_recharge
Haitians on Facebook can jump straight into the fun contest on "I <3 Haiti" community page, starting on February 9, 2017. The giveaway announced for February 14, 2017, consists of $10 Voice Credit for international calls to Haiti and other destinations, for those who will tell a funny dating story in a short a comment on the Haitian expat page: https://www.facebook.com/SalutHaiti/
The winner of the Facebook contest, as well as anyone using SalutHaiti.com to call Haiti from abroad, has 3 ways to call:
-Using access numbers from any personal phone, while no 3G, 4G or WiFi connection is needed
-Using KeepCalling app for iOS and Android devices
-Using Web Call desktop app to make calls from PC to any landlines or mobiles in the world; the app is available in one's SalutHaiti.com account and requires no download.
With coupon code H3ART, anyone who purchases at least $10 Voice Credit on SalutHaiti.com between February 9-11, 2017, gets automatically a 10% Voice Credit Bonus. The condition to get the international calling credit on SalutHaiti.com is to have a free account on the website instead of a Contract, and to use coupon code H3ART when placing the order, which takes less than 1 minute: https://saluthaiti.com/international-calls/Haiti
Everyone deserves a Valentine's Day gift with SalutHaiti.com. So, the third offer for Valentine's Day is a bonus for any international top up to Natcom mobiles in Haiti, from anywhere in the world. Whether the mobile recharged belongs to a friend, one's wife or girlfriend, the mother or the brother, the bonus applies automatically as long as the top up value is above $9. The bonus consists of unlimited data and local minutes from Natcom.
An account on SalutHaiti.com comes with a set of features that cost nothing:
-Speed Dial and PINless dialing makes the international calls resemble a local call in terms of dialing experience.
-Thank You points are offered on every purchase and can be later converted into Voice Credit for free calls.
-Lowest rates on the market for calls to both mobiles and landlines.
-KeepCalling app costs nothing to install on any Android device, iPhone, iPad or iPod Touch.
-24/7 human Customer Support for any explanation or question.
-Online Help Center with Frequently Asked Questions.
-Online 30 day call history and account transactions available non-stop.
-Calling is also possible using access numbers that require no Internet connection.
-More than 1 expat service available in one's account.
-International Mobile Recharges are instant and easy.
-PayPal is accepted besides all major credit and debit cards.
-Payment is accepted in any currency.
-Transactions are 100% secure. The service is "Verified & Certified"
-Anyone can earn credit while recommending the service to other fellow expats.
SalutHaiti.com is a friendly website dedicated to the Haitian diaspora in the USA, Canada, Australia, Asia and Europe. It is a brand of KeepCalling, a global telecommunications company registered in 2002 in USA. Presently, KeepCalling provides its services to hundreds of thousands of consumers and businesses, with a focus on customer satisfaction. KeepCalling was listed by Inc 5000 as one of the fastest growing companies in the USA for 5 consecutive years.