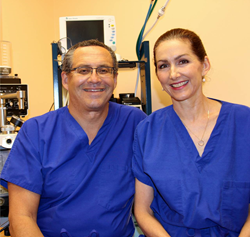 Santa Rosa, CA (PRWEB) February 08, 2017
Francisco Canales, MD and Heather Furnas, MD are excited to bring patients the cutting-edge, noninvasive miraDry technique. The procedure is the first and only noninvasive technique, approved by the Food and Drug Administration, to permanently end axillary hyperhidrosis.
 
Created by California's Miramar Labs, miraDry was first approved by the FDA in 2011, as a safe and effective method for men and women to end continuous underarm dampness, sweat stains, and repeated deodorant reapplications. Up until now, the traditional treatments for hyperhidrosis have been limited to prescription strength antiperspirants, oral medications and Botox. However, none of these can provide the permanent results of miraDry.
Using a concentrated beam of light energy, miraDry works by targeting and destroying the underarm glands responsible for sweat, located immediately below the skin's surface. As MiraDry addresses approximately 5% of the 2 million sweat glands, the body retains its natural ability cool down and eliminate toxins, as needed. Surrounding, healthy tissues are unharmed during treatment.
Each miraDry treatment takes less than an hour, utilizing a small, contoured handpiece. Pressed gently under the arm, the miraDry applicator emits short pulses of energy, approximately 20-30 seconds long. Depending on the individual patient, treatment will take less than an hour. Patients are back to their normal routine immediately after treatment and the benefits from the MiraDry session can be seen immediately. As the targeted sweat glands will not regrow, the results from MiraDry are permanent.
 
Plastic Surgery Associates' Dr. Furnas and Dr. Canales are happy to offer this one-of-a-kind procedure to their patients. Dr. Canales further explains the unique benefits of treatment, "MiraDry uses energy to target and destroy the underarm glands that are responsible for sweat and odor." He then continues, "So, if you are tired of ruining clothes with sweat stains and deodorant marks, and you are ready to drastically reduce sweat and odor from your underarms, MiraDry is a solution that has immediate and permanent results."
 
Dr. Francisco Canales and Dr. Heather Furnas founded Plastic Surgery Associates in 1992. Today, they each bring patients more than 25 years of surgical and noninvasive experience. Both avid writers and lecturers, the surgeons often present at plastic surgery conferences around the world. When Drs. Canales and Furnas are not seeing patients, they donate their time and skills to underserved children with birth defects in Peru, Honduras, El Salvador, Western Samoa, and the Philippines.
 
Patients interested in more information on reducing sweat with the innovative miraDry technique should contact Plastic Surgery Associates for additional details. Contact the Santa Rosa location at 707.537.2111, or those individuals closer to San Francisco can call the newest Plastic Surgery Associates location in Novato at 415.895.5032. Visit the MiraDry site for expanded data on this innovative technique for excess sweating.