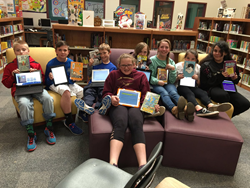 I'm pulling for all the Learning Ally Great Reading Games readers, who are gaining so much from this contest. You guys are heroes. Keep reading and keep being champions." -- Malcolm Mitchell.
Princeton, NJ (PRWEB) February 14, 2017
Malcolm Mitchell, wide receiver for the NFL's Super Bowl 51 Champion New England Patriots, is giving a boost to more than 10,000 students with dyslexia and blindness/visual impairment, as they compete in nonprofit Learning Ally's Third Annual national reading contest, The Great Reading Games.
Mitchell, fresh off of his team's historic overtime win – and biggest Super Bowl comeback in history - is now helping call plays for Learning Ally- providing support, encouragement and motivation to students in over 1,200 schools during the Great Reading Games – which are designed specifically for students who read differently and would not traditionally have a chance to participate in reading contests. During this event, the gap in reading recognition for these students shrinks, as they become the champions winning prizes and awards for their schools.
The students, now being cheered on by Super Bowl Champion Mitchell, are marching down the field towards their own Super Bowl – "Read Across America Day," the birthday of Dr. Seuss on March 2. The students will also be joined that day by "I Survived" author, Lauren Tarshis for a national webinar, and "Diary of a Wimpy Kid" author Jeff Kinney, who will be judging the Great Reading Games social media contest.
A children's book author himself, Mitchell is no stranger to the cause of literacy in schools. He runs his very own literacy initiative called Read with Malcolm, which champions reading among students of all backgrounds. Now, with Learning Ally – he is championing the 8.5 million students with reading differences like dyslexia and blindness/visual impairment. Students enrolled in Learning Ally read using the organization's audiobook technology program, which includes an online library of 82,000 human-narrated textbooks and literature titles accessible via personal computers, smartphones, Chromebooks, and Apple or Android tablets.
One example of such an audiobook is Mitchell's own book, called "The Magician's Hat," for which he won Georgia Children's Author of the Year in 2016 and which he personally recorded at Learning Ally's studio in Athens, GA. "For me, to be able to record an audiobook that will hopefully encourage kids to read is something I will forever cherish," says Mitchell. The printed edition of Mitchell's book is also available in the Magic Shop at http://www.ReadWithMalcolm.com.
Mitchell was one of the University of Georgia's all-time leading wide receivers, and was drafted by the Patriots in 2016. Now he has capped off his rookie year with a Super Bowl ring. "Wow, this has been a great year," he says. "I have played alongside and against many tough competitors; and now I'm pulling for all the Learning Ally Great Reading Games readers who are gaining so much from this contest. You guys are heroes. Keep reading and keep being champions."
Learning Ally programs like the Great Reading Games are able to reach thousands of students, thanks to the generous support of donors, volunteers and members. To learn more about getting involved with Learning Ally, visit LearningAlly.org/Get-Involved.
About Learning Ally
Founded in 1948, Learning Ally supports K-12, college and graduate students, veterans and lifelong learners – all of whom read and learn differently due to dyslexia, blindness or visual impairment, and other disabilities. Through its extensive community events and support programs, Learning Ally enables parents, teachers and communities to help students thrive and succeed. The organization hosts live and virtual events for families and teachers; provides instructive webinars led by experts as well as peer-to-peer sessions led by students; and professional development workshops for educators. Learning Ally's collection of over 80,000 human-narrated audio textbooks and literature titles can be downloaded by students using their smartphones and tablets, and is the largest of its kind in the world. As a 501(c)3 nonprofit, Learning Ally is partially funded by grants from state and local education programs, and the generous contributions of individuals, foundations and corporations. For more information, visit http://LearningAlly.org.
About Read With Malcolm
Read with Malcolm is a youth literacy initiative founded by former University of Georgia wide-receiver and current New England Patriots rookie, Malcolm Mitchell. The organization's goals are twofold: 1) to introduce book ownership to students in households where reading is not a priority and 2) to improve literacy in schools with below grade-level reading skills. In 2015, Read with Malcolm launched Share the Magic Foundation, a 501c3 nonprofit organization, to promote the long-term benefits of being an active reader to students served by Title I schools and underserved communities. In its first year, Malcolm Mitchell's book, "The Magician's Hat," has been distributed to more than 18,000 students in schools, children's hospitals and community service organizations. To help us continue to inspire young readers, please visit http://www.readwithmalcolm.com for more information about Malcolm's youth literacy programs.