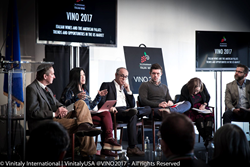 The aim was to understand where Italian producers stand in the largest wine market in the world
New York (PRWEB) February 08, 2017
Wine Opinions Vinitaly Survey: Preliminary Findings to Italian Wines and American Palate, presented at Italian Wine Week VINO 2017
Latest survey on wine consumers in the US revealed the heavy usage of social media among the young generations in their 20s and 30s when exchanging infor-mation about wine thus showcasing the importance for wineries to be socially active in order to gain competitiveness in the US. Italian wines showed their high potential in the market ranking as the most chosen imported wine by 30%, as other countries followed with France 27%, Spain 19%, Australia 12%, Chile 11%, and were most preferred by consumers in their 30s and 40s (source: http://www.slideshare.net/VinitalyInternational/wine-opinions-vinitaly-survey-preliminary-findings-to-italian-wines-and-american-palate).
February 6th marked the beginning of Italian Wine Week – VINO 2017 in the US, or-ganised by the Italian Trade Commission in collaboration with Vinitaly. A round ta-ble moderated by David Lynch, sommelier, expert of Italian Wine and editorial di-rector of SommSelect with Michele Scannavini, Global President of ICE/ITA(Italian Trade Agency), Leena Baran, Senior Manager of Import Wine Buying for Total Wine & More, Stevie Kim, Managing Director of Vinitaly International, Joe Cam-panale, Operator of Alta Linea, was held on the first day at Spring Studios in New York.
At the roundtable, John Gillespie, the CEO of Wine Opinions presented the results of "Wine Opinions Vinitaly Survey: preliminary findings to Italian Wines and American Palate", conducted by Wine Opinions, leading provider of market in-sights and intelligence. He addressed how Italian wines are considered in the US market with respect to the price, purchasing behavior and consumer consumption, in order to understand where Italian producers stand in the largest wine market in the world. The original survey was conducted on 1,463 members.
According to the Survey, frequent Italian wine consumers in the US often buy wine over $12, and for cheaper wine they will choose bottles from other countries. The survey also revealed that when it comes to the choice of the wine, consumers that were under 40 leaned towards "Advice from a Friend or Family Member" and "Wine is from a Country or Region I like" compared to "Tasted in Store" or "Recommenda-tion from the Retail Store Staff", which highlights the importance of social media among the younger generation. Among multiple Social Media channels, Facebook ranked the highest with 46% of the surveyed consumers using the platform to post, exchange information or images, followed by Instagram, Vivino, Pinterest, Twit-ter,Youtube, Delectable and Hello Vino. Consumers under 40 skewed higher for all channels, nearly double for Instagram and Delectable.
Favourite Italian wines that consumers frequently buy were, Pinot Grigio by 68% , Chianti by 67%, Prosecco by 64%, and Chianti Classico by 64%, proving their high recognition in the US market. In contrast, more than 50% of the consumers had never heard of wines such as Aglianico, Greco di Tufo, Falanghina, Fiano, Fran-ciacorta, and Salice Salentino, which showcased the further need of awareness in the US market.
Findings about the survey were presented on February 6th at Spring Studios in New York for Italian Wine Week – VINO 2017 organised by the Italian Trade Commis-sion in collaboration with Vinitaly. Please note that these are preliminary findings and will be followed up with the full-length version focusing on the preference of each generation, soon after.
For more information about the event go to http://www.vinitalyinternational.com/events/vinitaly-usa-newyork-2017 or https://extraordinaryitalianwine.us/seminars-new-york/ or write to me-dia(at)vinitalytour(dot)com
About:
VeronaFiere is the leading organiser of trade shows in Italy including Vinitaly (http://www.vinitaly.com), the largest wine and spirits fair in the world. During its 50th edi-tion Vinitaly counted more than 4,100 exhibitors on a 100,000 square meter area and 130,000 visitors including more than 2,600 journalists from 46 different coun-tries. The next edition of the fair will take place on 9 - 12 April 2017.
The premier event to Vinitaly, OperaWine (http://www.vinitalyinternational.com) "Finest Italian Wines: 100 Great Producers," will unite international wine professionals on April 8th in the heart of Verona, offering them the unique opportunity to discover and taste the wines of the 100 Best Italian Producers, as selected by Wine Specta-tor. Since 1998 Vinitaly International travels to several countries such as Russia, China, USA and Hong Kong thanks to its strategic arm abroad, Vinitaly Internation-al. In February 2014 Vinitaly International launched an educational project, the Vin-italy International Academy (VIA) with the aim of divulging and broadcasting the ex-cellence and diversity of Italian wine around the globe. VIA has now also created its very first Certification Course with the aim of creating new Ambassadors of Italian Wine in the World.