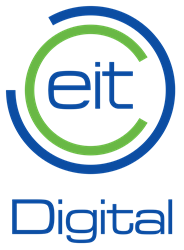 European Union data security rules are extremely strict. So, when a company complies with the European regulation, it meets the consumer requirements everywhere in the world, including in the USA. Europe sets the standard.
San Francisco, CA (PRWEB) February 08, 2017
EIT Digital, the leading European open innovation organization, is presenting three selected cybersecurity scaleups at RSA in San Francisco on 13 – 17 February, 2017 – amongst the scaleups will be the winner of the CES 2017 European/American Pitch Awards Competition.
In today's digital world, information is a very highly valued commodity. Safeguarding that information has become a top priority. The mission of RSA Conference is to connect corporate security officers, security companies and global thought leaders on security with the people and insights that will empower the delegates to stay ahead of cyber threats. The conference is an excellent resource for exchanging ideas, learning the latest trends and finding the answers to the most current topics in cybersecurity.
Chahab Nastar, EIT Digital's Chief Research and Innovation Officer said:
"Our Accelerator supports fast-growing European startups to scale up their business in Europe and beyond. We accelerate their growth by helping them secure target customers and raise capital. Cybersecurity is one of EIT Digital's core innovation areas, and one of Europe's strengths.
He continued:
"European Union data security rules are extremely strict. So, when a company complies with the European regulation, it meets consumer requirements everywhere in the world, including in the USA. Europe sets the standard."
During the RSA 2017 conference, EIT Digital will present three selected cybersecurity scaleups from the EIT Digital Accelerator scaleup program portfolio – all eager to expand to North-American markets:

Origone. UK cyber-security scaleup Origone scooped the first place at the European/American Pitch Awards Competition during MatchFest at CES 2017 (Las Vegas). Origone's software provides large corporates and SMEs with comprehensive protection against ever-changing email malware threats, such as 'phishing' and Trojan Horses, that can cause havoc at organisations. The clever software dis-assembles and sanitizes all incoming messages and attachments before they can be opened, giving businesses a powerful protective shield against cyberattacks. Read more.
App-Ray. Austrian App-Ray is a mobile security analysis tool designed to automatically scan applications for detecting cyber threats. The App-Ray tool helps mobile users to keep control of their personal data by detecting backdoors and data leakages and in addition it scans other apps that have access to or that may send data to other third parties. App-Ray provides a fully automated security analysis of mobile applications to find security issues, privacy breaches and data leaking potentials. The tool is developed as an outcome of profound academic research work at the German Fraunhofer AISEC institute, partnering to the EIT Digital research ecosystem. Read more.
DigiFlak. Estonian Cyber Security scaleup DigiFlak is the developer of the Flak Secuter, a highly innovative all-in-one device that secures and protects computer-held data for its entire "internet life". DigiFlak helps companies and individuals to easily manage and fully protect digital identities and sensitive information with a personal hardware-software solution. Read more.
RSA Conference 2017 will be held in San Francisco, California, USA, at the Moscone Center and Marriott Marquis, from Monday 13 to Friday 17 February, 2017.
Investors and all other interested in EIT Digital and the scaleups presented at RSA Conference are welcomed to contact EIT Digital for further information.
About EIT Digital
EIT Digital is a leading European open innovation organization. Our mission is to foster digital technology innovation and entrepreneurial talent for economic growth and quality of life in Europe. We bring together entrepreneurs from a partnership of over 130 top European corporations, SMEs, start-ups, universities and research institutes.
EIT Digital invests in strategic areas to accelerate the market uptake of research-based digital technologies and to bring entrepreneurial talent and leadership to Europe. Our innovation and education activities are organised in and around our co-location centres, where students, researchers, engineers, business developers and entrepreneurs come together to drive the digitalisation of society.
EIT Digital is a Knowledge and Innovation Community of the European Institute of Innovation and Technology (EIT). Since 2010, EIT Digital has consistently mobilised talent, ideas, technologies, investments and business across Europe and beyond to stimulate disruptive digital innovation. EIT Digital headquarters are in Brussels with co-location centres in Berlin, Budapest, Eindhoven, Helsinki, London, Madrid, Paris, Stockholm, Trento and a hub in Silicon Valley.
For more information visit: http://www.eitdigital.eu/
Follow us on Twitter: @EIT_Digital
Follow as on Facebook: https://www.facebook.com/EITDigital